Table of Contents:
With technology ever advancing Intel must always be one step ahead of the game, and the new Z68 Chipset meets the challenge with a few very key features that will allow users even more flexibility with both their CPUs and their graphics options. On the CPU side of things we will see better overclocking features and better flexibility on new CPU releases without needing a new motherboard and Intel's unlocked CPUs will offer the most flexibility on the Z68 Chipset. Increased memory performance and advanced timing options will appeal to the enthusiast user as will the ability for even better overclocking of both the CPU and GPU together not seen on the previous P67 motherboards. These features allow much more flexibility than was offered on Intel's first jump into the new 2nd Gen Intel Core CPUs and draw new users into the fold. The Z68 combines the strengths of both the P67 and H67 chipsets and adds better features for both the 2nd Gen Core i7 and i5 CPUs.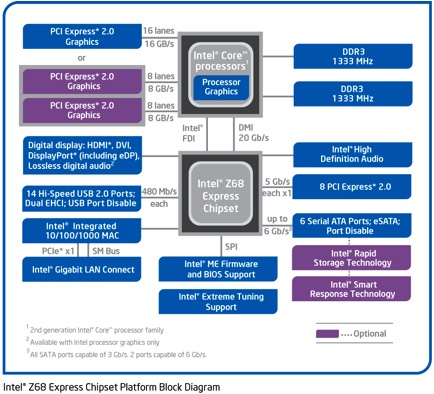 The built in graphics have also taken a shot of adrenaline and now offer excellent features for the user who wants the All In One solution for either a new Media center or general user who does not need a high end video solution to satisfy their personal needs. There is Intel's new Quick Sync Video, the Intel Insider InTru 3D and of course their onboard HD graphics solution. IF someone is building an HTPC these are great features to have and for the gamer or enthusiast just icing on the cake as they will most likely use a discreet Video card and not the Intel integrated solution offered on the CPU. Plus with LucidLogix Virtualization users can now on the fly change their video solution by way of dynamic switching between the built-in graphics solution and the discreet graphics card. This would work pretty cool in a situation where you watch and play games on your big screen, but still work on a standard LCD, you could just switch solutions instead of cables. Or you could use the onboard for its media capabilities.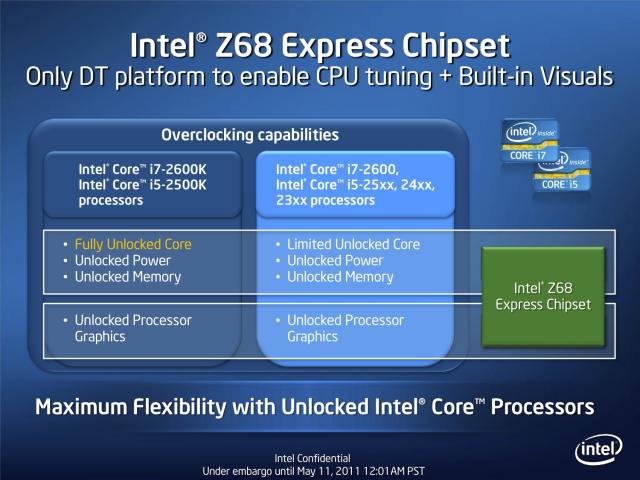 Intel has also brought to the table their new Smart Response Technology that allows the use of an SSD to be used as a caching drive to obtain nearly SSD performance using a high speed HDD in conjunction with an SSD.  This means increased performance for users who want the speed and performance of the new SSD technology, but do not have the money to shell out to buy a large capacity SSD and can only afford an entry level 20GB or such. Not only will this increase SSD sales it also allows users who currently have a large capacity HDD to still use these new Smart Response Technologies by just adding a small 20GB SSD. This new technology is supposed to offer HDD performance increased by 4X its normal operating speeds, which is nothing to scuff at for such an easy upgrade path. What this really does for the user is make not only your system boot faster, but also allows you to access and use your favorite programs with better performance by remembering the programs you use the most frequently.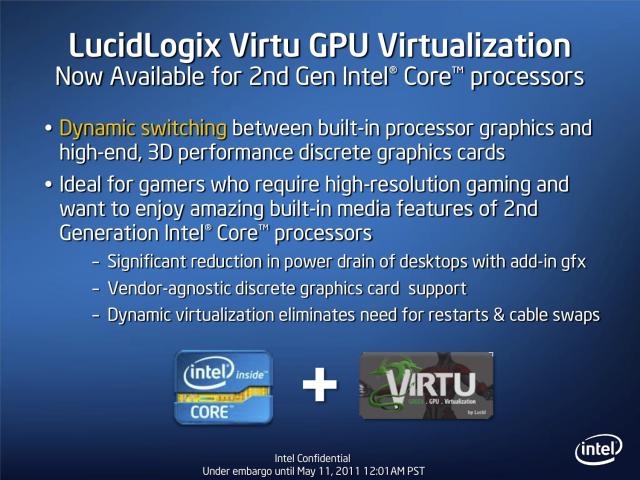 Many people still have fear over using their computer to buy or have any of their information available to would be antagonists who may want to steal your identity or use your information fraudulently. That said and being a thing of concern to lots of folks Intel now introduces their Identity Protection Technology (IPT) that allows your system added protection to both online media as well as financial institutes with personal protection at a new level. Usually an external type device or key is used to generate a dynamic code allowing banks and things like Facebook to know that it is you that is trying to access your accounts, blocking out would be criminals and giving you peace of mind, but now that technology is embedded in all 2nd Gen Core CPUs and bringing this technology into your PC. Overall the new features seen here should breath some new life into Intel's sales market and allow users to take even further advantage of their CPUs and GPUs, which will translate into happy end users at the end of the day.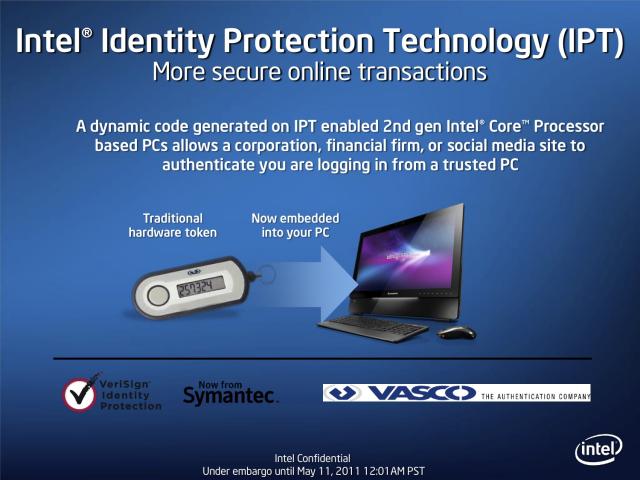 With new technology that touches not only on advanced overclocking, but security as well as excellent graphics I fell Intel has done an excellent job in once again pushing technology forward in a positive direction.
Pages