Table of Contents:
Ok so what is Sandy Bridge? Sandy Bridge is Intel's second Core processor family replacing the Nehalem processors on the LGA-1156 interface. It uses a new LGA-1155 CPU interface that is not pin-compatible with LGA-1156 CPUs. The new architecture has about a Billion transistors and is manufactured on Intel's 32nm fabrication process, much like the Clarkdale CPUs were.
Intel has finally integrated the graphics core into the CPU. Previously, in the Arrandale and Clarkdale CPUs the graphics core was on the same die as the CPU but a separate chip. On the Sandy Bridge CPU the graphics core is now integrated into the CPU with shared bandwidth between the CPU and GPU L3 cache meaning up to 25.6GB/second of bandwidth is available to the integrated graphics.
One new feature of the GMA 3000 chip on the Core i5-2500K CPU is the ability to run DirectX 10.1 games and OpenGL 4.1 games. DirectX 10.1 adds image-enhancing features to the 10.0 framework including new modes for anti-aliasing support and support for parallel cube mapping, and 32-bit floating operations. The GMA 3000 has the updated hardware support for OpenGL 2.1 features.
There are two new graphics chips being announced as part of the Sandy Bridge CPUs. The lower-end ones are called the GMA 2000 HD, the higher-end the GMA 3000 HD. The GMA 2000 has 6 Execution Units, while the 3000 has 12 Execution Units. The previous generation GMA HD graphics core had 12 EUs.  The base graphics frequency on the graphics chip is now 650MHz, with a maximum dynamic frequency of 1300MHz. This is an increase from the GMA HD of 667MHz and 900MHz maximum dynamic frequency.
Intel introduced MultiMedia eXtensions (MMX) with the Pentium Pro CPU. Since then they have added new multimedia instructions to help with various multimedia tasks in the form of SSE (Streaming SIMD Extensions). Intel has released revisions of SSE instructions up to 4.2. With the new CPU, Intel has introduced a new set of instructions called Advanced Vector eXtensions which increase the size of the SIMD vector registers from 128-bit to 256-bit. These instructions allow the processor to perform fused multiply and add instructions for floating point scalar and SIMD instructions.
Core i5-2500K
64KB L1 cache (32KB L1 Data 32KB L1 Instruction)
256KB L2 Cache
6MB Shared L3 Cache shared with the integrated graphics core
256-bit/cycle ring bus bandwidth
64-bit cache line width
95W TDP
Quad Core
3.3GHz clock speed
3.7GHz Turbo Boost clock speed
Turbo Boost 2.0
Hyper-Threading No
Stereoscopic 3D Blu-ray
GMA 3000 HD Graphics
Intel Advanced Vector Instructions
Intel Quick Sync Video
Intel InTru 3D
Intel Clear Video HD
32nm
4/4 Cores/Threads
CPU Base clock frequency 3.3GHz
Max Turbo Frequency 3.7GHz
DDR3 Memory frequency 1333MHz
Graphics max dynamic frequency: up to 1100MHz
Intel vPro/TXT/VT-d/Intel SIPP No
Intel AES-NI Yes
Package LGA-1155
1 Billion transistors
The Core i5-2500K is a fully unlocked CPU meaning both the multiplier and the Base Clock are unlocked allowing for high overclocks. There are several different configurations of CPUs announced today; the 2500K has 4 Cores meaning it can work on 4 threads at the same time. This CPU has a maximum Thermal Dissipated Power of 95W.  The 2500K is clocked at 3.3GHz for the standard clock and 3.7GHz for the Turbo Boost 2.0 clock.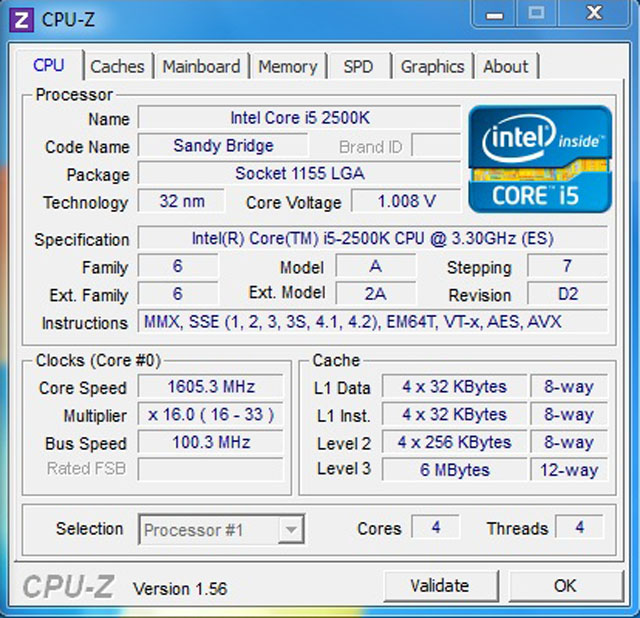 Turbo Boost 2.0 is a new standard for auto-overclocking your system. Previously, in Turbo Boost 1.0, the processor disabled one or more cores depending on the workload of the processor to reach the highest level. The newest version of Turbo Boost works in three modes; four core Turbo, Dual Core Turbo and Single Core Turbo. Turbo Boost 2.0 is efficient by varying the Turbo frequency based upon the workload adaptively depending on the type of instructions. It boosts power level to achieve power gains for high intensity "Dynamic" workloads, and uses a power averaging algorithm managing power and thermal headroom to optimize performance. It operates with the HD Graphics with Dynamic frequency to offer performance when and where needed by giving power dynamically to the CPU and graphics depending on workload. The HD graphics on the GMA 2000 and 3000 can clock up to 1100MHz or 1350MHz when graphics heavy operations are needed. Intel took a lot of flak with their GMA HD graphics on the Clarkdale and Arrandale platform, and rightly so for their encoding decoding and transcoding speed or lack thereof. With the Sandy Bridge architecture, Intel has improved the various video features of the CPU offering features such as Quick Sync Video InTru 3D, and Intel Clear Video HD. Sandy Bridge can do MPEG, VC1, AVC, up to 1080i/p in Hardware, while the previous generation Clarkdale/Arrandale did it in software, meaning that performance while encoding videos can be improved with this feature. True 3D is their term for Stereoscopic 3D support for Blu-ray playback. Sandy Bridge can do full 1080p resolution Stereoscopic 3D Blu-ray playback over HDMI 1.4.
Intel once again takes innovation to a new level and with integrated graphics, improved performance, lower power consumption and competitive pricing; Intel has a solid winner in the new i5 2500K and DH67BL products.
Pages