Table of Contents:
•            GIGABYTE X58-USB3 Motherboard
•            4 SATA Data cables
•            SLI Bridge
•            Driver DVD
•            User Guide
•            EasyTune6
•            Rear I/O Shield
GIGABYTE tends to bundle their Intel motherboards inside a white box and the X58-USB3 board is not an exception to this rule.  The top left hand corner of the box has the USB 3.0 onboard accelerator logo along with an unlocked performance banner. Under that is the CPUs supported by the motherboard, the Core i7 LGA-1366 CPUs, the Intel x58 chipset logo and the 3-year warranty sticker.
The bottom of the front of the box has the main features including Ultra Durable 3, Smart 6, ATI Crossfire and SLI support, and the 2oz copper PCB. The back of the box has the features explained with the emphasis on the USB 3.0 power and Quick Power up explored. Opening the box we find that GIGABYTE has included four SATA Data cables, an SLI bridge and the Driver DVD/ User Guides for installation and the EasyTune 6 software.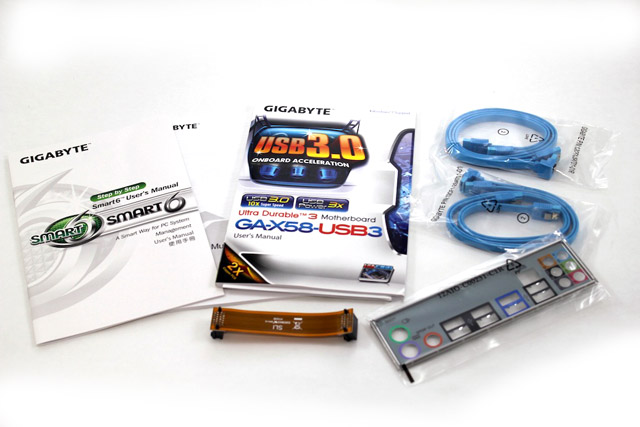 Have you wanted to get your hands on an X58 motherboard, but didn't the cash? Gigabyte's new X58-USB3 motherboard has all the frills minus the high price tag making it a Top Value product.
Pages