Table of Contents:
GIGABYTE P67A-UD7 motherboard
4 SATA 6Gb/second cables
External SATA bracket with two power cables
Manual
Driver DVD
I/O Shield
GIGABYTE badge
Dolby badge
2-way SLI bridge
3-way SLI Bridge
GIGABYTE has bundled their new flagship inside a stylish black box. The upper left hand corner of the box has the GIGABYTE logo on it with a picture of the board below that. The upper right hand corner has the Unlocked Performance sticker. GIGABYTE offers 3 years warranty on their P67A-UD7 board. The name of the board is below that.
Opening the front flap we see a plastic opening with the CPU Socket in plain view. There is some more information on the main features of the board here including Ultra Durable 3, 24 Phase Power, 333 and more. The rear of the box has more information. Opening the box we find that GIGABYTE has enclosed the motherboard inside a plastic container without an anti-static bag. The bundle itself has SATA cables, a bracket for external SATA (including the power cables an SLI bridge and a 3-way SLI bridge.
The driver DVD has the GIGABYTE EasyTune6 software, which is their interface to do Windows based overclocking and SMART6 as well as the drivers for the motherboard. SMART 6 consists of SMART QuickBoot, SMART QuickBoost, SMART Recovery 2, SMART DualBIOS, SMART Recorder and SMART TimeLock. SMARTRecovery2 allows you to roll your system back to a backup using both internal and external HDDs. External HDD supports USB 2.0/3.0/Firewire, e-SATA and supports file and system recovery. SMART QuickBoot shortens POST boot up time with BIOS QuickBoot. OS QuickBoot shortens OS boot up time. SMART QuickBoost offers one-click overclocking of the CPU with up to 30% overclocking without tweaking. SMART DualBIOS allows you to store 12 sets of passwords and 12 sets of dates in your Dual BIOS, protecting the information against HDD crash or OS re-installation. SMART Recorder records usage of your computer and monitors files so you can see what files have been copied from local HDD to external storage. SMART TimeLock gives time control over your computer.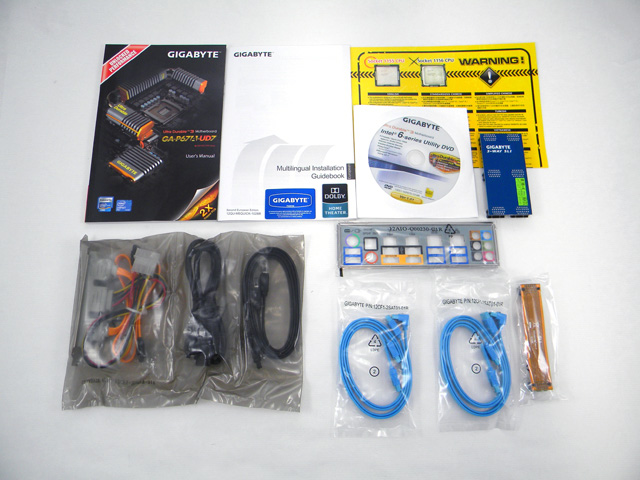 At the end of the day the new P67A-UD7 is an excellent product for the new second generation Core CPUs from Intel, its stable, full of features and has overclocking options that allow easy and simple overclocking even to the beginner user.
Pages