Table of Contents: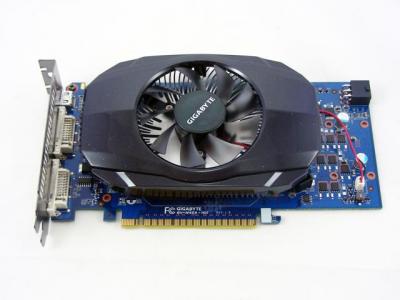 The card itself is 8.25" long which is typical of GTS 450 cards. One defining feature of this card is the cooler. GIGABYTE uses a circular heatsink that covers more than 50% of the front of the PCB. The center of the heatsink has a 9-fin fan that cools the graphics chip. GIGABYTE uses a copper plate to cover the chip, keeping it much cooler than the reference design cooling system.
The back of the card has a 6-pin power connector. As the power draw on the GTS 450 is 106W, 75W is provided by the PCI-E bus and the remaining maximum power is provided by the 6-pin power connector. The back of the card is where the mounting pins on the GPU are located. GIGABYTE decided to use solid capacitors on their GTS 450 card meaning longer lifetime.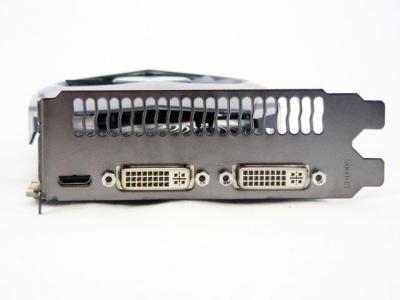 The I/O on the card consists of the standard Dual-Link DVI connectors and a mini-HDMI connector. Most people using this card won't have expensive DisplayPort monitors but the HDMI connector and DVI connectors will provide the most common displays on the market both HDMI HDTVs and DVI monitors. The card can work with another card using the SLI Bridge on top of the card and run on three monitors if two cards are used together.
Gigabyte puts their own spin on the all new GTS 450 from NVIDIA, its time for budget gamers to rejoice!
Pages