Table of Contents:
·       GIGABYTE GeForce GTS 450 Card
·       Driver DVD
·       Mini HDMI to HDMI adapter
·       DVI to VGA adapter
·       6-pin power
GIGABYTE has bundled their GeForce GTS 450 inside a red box with the GIGABYTE logo on the top left corner of the front of the box. A logo showing off the Copper Core with 14% lower temperatures is below that. The overclock the card comes clocked at is listed below that at 810MHz compared to the 783MHz core clock reference design.
The back of the card box has the main features of the card explained in detail. The GTS 450 features are explained in a variety of different languages. Opening the box we find that GIGABYTE has included a white box inside with the card and accessories of the card. The bundle consists of a mini-HDMI to HDMI adapter, a DVI to VGA adapter and a 6-pin power adapter.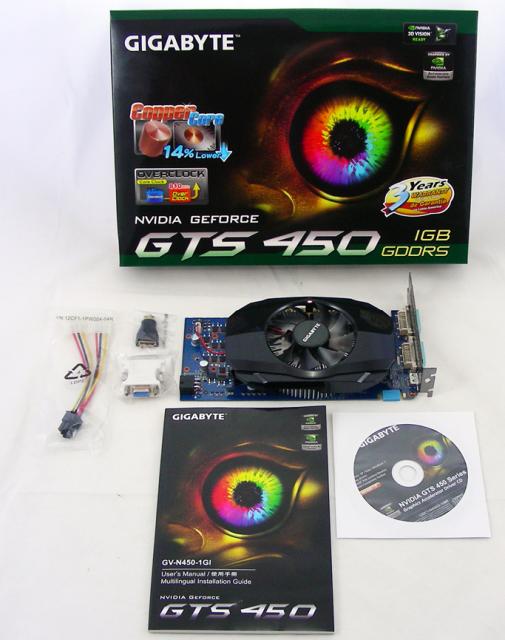 Gigabyte puts their own spin on the all new GTS 450 from NVIDIA, its time for budget gamers to rejoice!
Pages