Table of Contents:
GF114 chip
1.95 Billion Transistors
1GB of GDDR5 memory
1GHz core clock
2GHz Shader Clock
4-phase power circuitry
4580MHz Memory clock
256-bit memory interface
Power Monitoring hardware
CUDA
PhysX
3D Vision
NVIDIA Surround
2 Graphics Processing Clusters
8 Streaming Multiprocessors
384 CUDA Cores
64 Texture units
32 ROP units
512KB L2 Cache
128.3 GB/s memory bandwidth
52.6 Gigatexels/second bilinear texture fill rate
40nm fabrication process
2x Dual-Link DVI-I, 1x Mini-HDMI
2-slot form factor
2x 6-pin power connectors
170W TDP
100C Thermal Threshold
The GeForce GTX 560 is based upon a new chip called the GF114. This chip has 1.95 Billion transistors, and is built on TSMC's 40nm fabrication process. If you might remember the GeForce GTX 480 was released early in 2010 with 480 CUDA cores and was the fastest single chip card on the planet until the release of the GeForce GTX 580 late last year. The GeForce GTX 580 was a "Full GTX 480" and that is basically what a GTX 560 Ti is.
The chip is composed of two Graphics Processing Clusters consisting of four Streaming Multiprocessors with each having 48 CUDA cores. This is exactly the same configuration of the GTX 460 i.e. 48 SPs per SM instead of 32 on the 480/580 and 8 SMs, but the 460 had 7 SMs enabled for 336 CUDA cores while this new graphics chip has all eight enabled.  NVIDIA redesigned the chip at the transistor level much like they did on the 580. There are 64 texture units and 32 ROPs. The TDP (Thermal Design Power) limit of the 560 is 170W which is slightly higher than on the 460 at 160W.
The GeForce GTX 560 has eight PolyMorph engines which are NVIDIA's term for their Tessellation engines on the card along with two raster engines. NVIDIA's performance in Tessellation is generally higher than their competition from AMD due in large part to the number of PolyMorph engines. Tessellation is one of the major features of DirectX 11 which all GF1xx parts support as well as multithreaded rendering and Compute shaders. NVIDIA says their cards do DirectX 11 right and games like HAWX2 which uses tessellation extensively generally perform better on their cards.
The memory interface on the GTX 560 matches the interface on the GTX 460 1024MB card. Each set of 8 ROPs on the GF114 has a 64-bit memory controller. As the GTX 560 Ti has 32 ROPs that means the card has 4 64-bit memory controllers or a 256-bit memory interface.  The memory speed has also increased from the 4008MHz on the GTX 560 reference card to 4580MHz on the GIGABYTE GTX 560 Ti SO. This means the GTX 560 has a memory bandwidth of 128.3GB/second.
NVIDIA specific features include PhysX, 3D Vision, NVIDIA Surround and SLI. Physics equations have traditionally been done on the graphics cards. A small company called Ageia developed the PhysX software and hardware to bring physics in games. NVIDIA bought Ageia a few years back and has now implemented support for the PhysX into their GeForce line of products allowing graphics cards such as the GTX 560 to do the physics effects on the graphics card instead of the CPU, allowing for better effects such as realistic clothing, dust, fog, destructible persistent damage and much more to be done with better performance than on the CPU. 3D Vision is NVIDIA's technology to play stereoscopic 3D games and movies using a 3D Vision kit, a 120Hz monitor, and a GeForce card that supports it.  NVIDIA Surround allows up to three monitors at 7680x1600 resolution (3x2560x1600) to be used to play games in surround view. Note, that to use NVIDIA Surround two cards in SLI mode are required.
GIGABYTE Specific Features
Windforce 2x
7-phase PWM design
GPU Gauntlet sorting
OC Guru
Voltage Read Point
Ultra Durable VGA+
GIGABYTE has built a line of motherboards with something called Ultra Durable. They were first to market with 2oz copper in the Power and Ground PCB layers on their motherboards. With the Super Overclock Series GIGABYTE introduced Ultra Durable VGA which brought this feature to the graphics cards.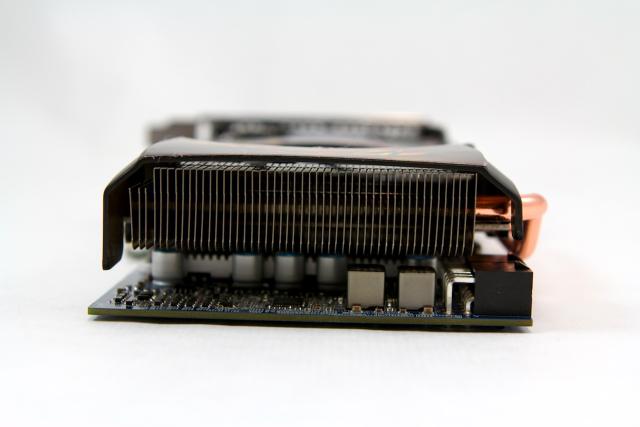 The GeForce GTX 560 Ti Super Overclock card has what GIGABYTE calls Ultra Durable VGA+. This offers 2oz Copper PCB, Japanese Solid Capacitors, Tier 1 Samsung/Hynix memory, Lower RDS (on) MOSFETs and Ferrite Core Chokes.  With the + moniker, GIGABYTE adds one NEC Proadlizer also known as a film capacitor to provide amazing current capability and extremely low ESL/ESR for super overclocking ability. GIGABYTE uses a 7-phase PWM PCB design on the 560 SOC with 6 for the PCB and 1 for the memory. NVIDIA's reference design offers a 4-phase PWM.
Every video card manufacturer speed-bins their graphics cards to make their overclocked versions of the standard card. GIGABYTE has a GPU Gauntlet Sorting process which the GPU must pass a sequence of tests to get the best GPUs for the Super Overclock Series.  They use a proprietary database analysis system to investigate GPU core, Shader and memory clock speeds, with a professional testing toolkit to find the highest frequency with Graphics Benchmarks like Furmark and 3DMark. These tests stress the graphics chip beyond normal endurance (Furmark has been known to blow up a card or two).
The next item on the feature list is GIGABYTE's WindForce 2x solution. The GV-N560SO-1GI card has two fans on a mirror-incline.  The GV-N560SO-IG1 has two ultra-quiet PWM fans and four copper heat-pipes. The special inclined dual fan design effectively minimizes the flow of turbulence between two fans and enhances heat dissipation of hot area right underneath each fan. The WINDFORCE 2X design enlarges the air channel on the graphic card vents and creates a more effective airflow system inside a case. In practice the GTX560 SOC has near the same temperature readings as a reference card, making it an effective cooling solution.
OC Guru is GIGABYTE's overclocking utility that they bundle with their video cards. The GIGABYTE utility is chock full of ways to overclock your new video card. The utility measures the temperature, voltage and clock speeds of the card. GIGABYTE has three basic profiles one for overclocking, one for gaming and one for non-load situations. The clock speed in the non-load situation is 800MHz for the core, 1145MHz for the memory and 1600MHz for the Shader clock. The clock speed in the gaming situation is the default clock speed of 1000/1145/2000. The Overclock tab is where it gets interesting. The card has a set of five profiles which can be set and tested beforehand. To set it just load the profile and your clock speeds and voltages will change to the settings set by the profile.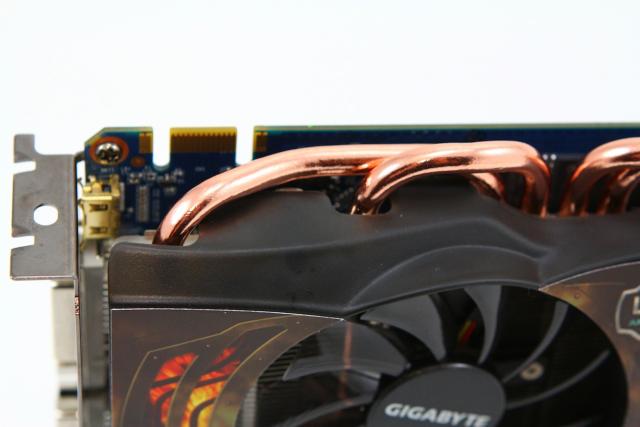 GIGABYTE has done a great job with the cooling and the design, with temperatures staying within reference levels even at this higher overclock setting.
Pages