Table of Contents: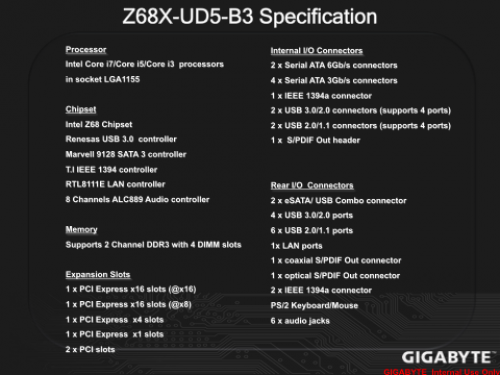 There are many aspects of the new Gigabyte GA-Z68X UD5 motherboard that are unique to the Gigabyte brand name, and nowadays features are what really set motherboards apart, as performance values are rarely more than 5% in either direction be it faster or slower, making features count more than ever when making a serious buying decision. As you can see the PCB is now matte black and is made of twice the copper of normal motherboards, which offers improved signal quality, reduced temperatures and a 50% less PCB electric waste count that is also better for the environment and good for the new Green movement. Some features are hard to see, but are still beneath the hood and matter to the world at large in the big picture and the green features being utilized today are important to our future.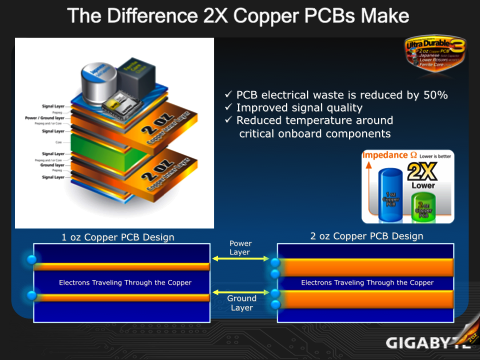 Using the highest quality components and the best Japanese parts like their Solid Capacitors, which offer a 50,000 Hr life expectancy, Ferrite Core Chokes, that are not only low profile, but also cannot burst, and using Intel's latest V12 design that incorporates the Intersil PWN (Reliable CPU Power Engine) controller that offers real time processing, you get superior stability, better cooling, and enhanced overclocking performance. Gigabyte has gone the distance in making this Z68-UD5 a motherboard that runs much better by way of its advanced features such as the Driver MOSFET and 20 phase power conditioning, which allows optimal power delivery and a more robust and stable voltage selection that plays a key role in overclocking environment. Variances in the amount of voltage and current coming into the board play an important role in its overall life expectancy.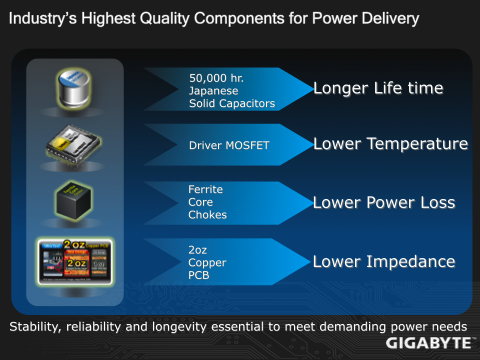 For a better thermal result on the chipsets themselves, the new Gigabyte GA-Z68X-UD5 uses a high performance Ultra Durable cooling solution that utilizes copper heat pipes and large area heat sinks to dissipate the heat generated by the chipsets, thus further insuring a solid overall thermally sound system. This is a very good thing to have on your chipsets, and many motherboards have a solution that looks similar to this one, but are really a bit different. Using a combination of superior components and having better thermal control will benefit the end user in a variety of ways, many that will be just be passed over in many circumstances as only the true enthusiast who tweaks his settings and tries to get the maximum performance from his system will truly come top appreciate the effort that went into the Z68X-UD5-B3. Those who do overclock and pay close attention to what their system is doing and how cool it is running however will have a field day in geek land.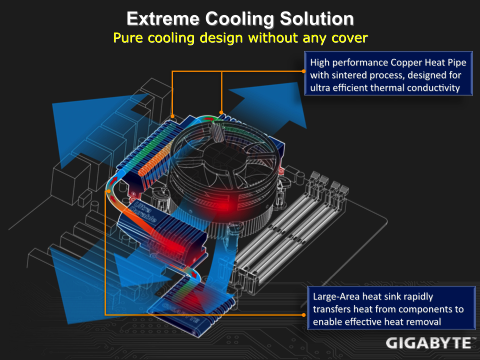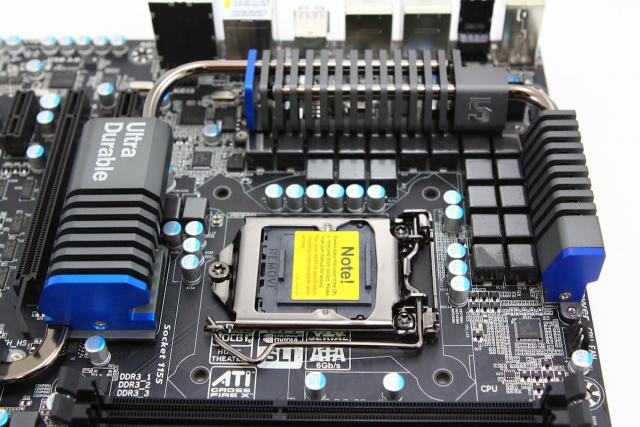 Check in Tomorrow for part 2 Specs, BIOS Options And Layout
As Intel hits the market with the new Z68 Express chipset Gigabyte adds the all new GA-Z68X-UD5 to its arsenal of motherboards. Today we take a look at what comes in the box and what the power and cooling options are.
Pages