Table of Contents:
GIGABYTE RV-R695D5-2GD-B card
Driver DVD
Manual
Two 6-pins to Molex connectors.
GIGABYTE has bundled their HD 6950 inside a large black box. The GIGABYTE logo is on the upper left hand corner of the box. A supports up to 4 monitors sticker is below that (this is wrong as I'll discuss later), along with the main features of the card below that including Eyefinity, DirectX 11, PCI Express 2.1, 1080p, AMD HD3D, DisplayPort 1.2, HDMI 1.4a, 7.1 surround sound and GDDR5 memory.
The back of the box has a listing of the features of the card including the DirectX 11 and Eyefinity support. One thing that is that AMD features such as Enhanced Quality AA and the new architecture are not listed on the box, meaning that the full picture of the new card is not listed. Opening the box we find a white interior box. Inside that is an upper compartment with the accessories for the card and the card inside an anti-static bag within a foam enclosure.
In terms of bundle the card comes with a CrossfireX bridge to allow two or more video cards to improve performance. Note that the use of three or four cards requires two CrossfireX bridges. The board also comes with a pair of 6-pin to Molex power adapters. Most modern PSUs have at least two 6-pin power connectors, but they are nice to have if you don't have the requisite power connectors on your power supply.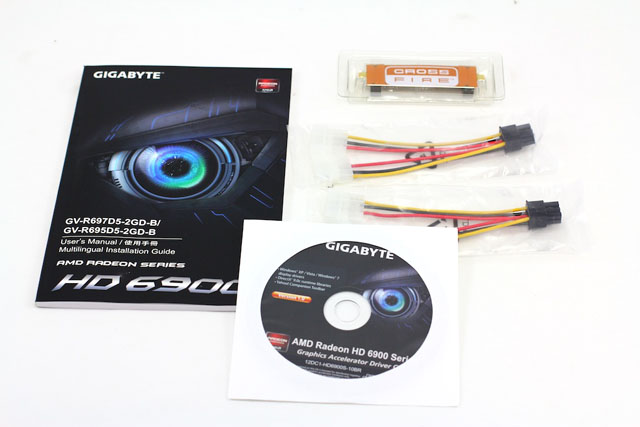 Gigabyte is one of the most solid companies in the PC industry and today we take a look at their all new RADEON HD-6950, here in time for the holidays!
Pages