Table of Contents: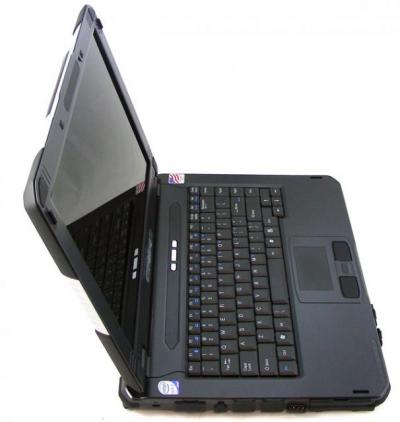 •            Drop resistant
•            Shock Resistant
•            Spill Resistant
•            Dust Resistant
•            Optical Dust lock
•            Battery Protection
•            Stylishly Rugged
•            Green Rating
•            Security
Man oh man what a set of features can be found on the GammaTech D14RM laptop!  Starting with the material, the laptop is made out of a magnesium alloy said to be 20 times stronger than ABS plastic found on most cases on the market. This material is so strong thatI threw it against the wall with the strongest force I could muster without breaking a sweat.
GammaTech claims that it has simulated MIL STD 810G Method 516.6 Procedures IV. One standard for rugged laptops on the market is that standard which requires 26 drops onto plywood over concrete from a height of 76cm or 192.28 feet. That is a very long drop onto concrete. We threw the laptop around the test lab and kitchen with all of our strength and it would not break. The only damage was the battery cover coming off, which was easily replaced.
The second feature is shock resistance. GammaTech has used an anti-shock mounting on the LCD screen and on the Hard disk. A lining on the LCD screen provides protection from the shock of a drop. This helps protect the LCD screen from breaking upon a drop. The Hard Disk is mounted on an anti-shock mount as well preventing physical damage to the HDD/SSD drive and data loss that often occurs due to excessive shock.
Spill resistance is another great feature of this laptop. One constant issue with laptops is the constant worrying about spilling any kind of liquid onto the laptop. My friend Miranda recently spilled some hot coffee on her Dell laptop and now it refuses to work.  After a little diagnosis by Best Buy she found out she fried her laptop motherboard.  One of the issues is the keyboard usually leads into the interior of the laptop meaning liquid may cause damage. Durabook has a design that is resistant from spills on the keyboard, touchpad and buttons and stops spills from seeping into the inside of the laptop. To test this we spilled a complete 12oz cup of water onto the laptop keyboard and the Durabook works without a problem still.
Drop Resistant material

Magnesium alloy

Processor

Intel Core 2 Duo FSB 1066

Chipset

Northbridge Intel GM45, GL40 (Factory option)

System Memory

Two 200-pin DDR2 SODIMM sockets each for 1GB/2GB  (8GB Maximum)

RAID Controller

Factory Optional Intel Mobile Enhanced RAID Controller Support RAID 0,1

Hard Disk Drive

2.5" 9.5mm SATA II Hard Disk Drive Support capacities of 160/320GB and up

Multi-function bay

One field changeable side opening multi-function bay that supports

Super Multi optical drive or

Optional 2nd Hard Disk Drive kit Support capacities of 160/320GB and up

Display

14.1 WXGA (1280x800) TFT WXGA+ (1440x900)-option

Webcamera-1.3Megapixel (option)

Touch Screen: Optional resistive type touch panel, optional sunlight readable function

Graphics and Video

Intel GM45 Integrated graphics

Shared system memory up to 1759MB (depending on OS and RAM)

Audio

High Definition Audio stereo,

Internal microphone

Two 1.5W speakers

I/O Devices

One PCMCIA Type II Slot

4 in 1 card reader slot support MS/MS Pro/SD MMC card

Smart card reader

2 button PS/2 TouchPad

I/O Ports

Four USB 2.0 ports

One Head Phone Out phone jack

One Mic-In phone jack for external microphone

One RJ-45 jack for internal 10/100/1000Mbps Ethernet

One DC-In jack

One 19 pin HDMI connection for HDTV or Projector

One 9-opin D-sub serial port

One 15-pin D-sub VGA port for external monitors

One optional external antenna connector for GPS

Keyboard

Spill resistant keyboard  (88 keys with Windows logo) LED illuminated keyboard

Wireless/Communications

Bluetooth 2.1+EDR (option)

Integrated 10/100/1000 Mbps Ethernet

Internal 2nd Mini PCI Express slot to support either WWAN/3G/WiMAX or GPS

Intel Mini Express card wireless LAN (802.11a/b/g/n)

Security

BIOS administrator password/Boot password

Fingerprint scanner

TPM 1.2

Smart Card reader

Kensington Lock

AC/DC Adapter

Input AC 100-240v 50/60Hz, Output 20V/3.25A/65W

Battery

Standard: 6 cell 4400mAh Li-Ion battery (approximately 5 hours battery life)

Optional 9 cell 6600mAh Li-Ion battery (approximately 8 hours battery life)

Dimensions

325x256x37-41mm (WxHxD)/13.8x 10x 1.45-1.61 inches. 2.5Kg/5.5lbs (with ODD and 6 Cell battery)

Certification

FCC, CE, CUS, CB

Green Tech

EPEAT, Energy Star 5.0, RoHS Compliance
GammaTech also made the entire laptop Dust resistant. All Input/output ports on the laptop are dust resistant.  This is important to the interior as dust on components can gather and cause more heat. With dust protection and spill protection this is one protected laptop! Another issue is battery damage from current or voltage surges and the Durabook D14RM-WK has double protection smart battery circuitry to prevent this. Smart battery calibration helps fight the loss of battery capacity found on netbooks/notebooks/cell phones due to repeated charge/discharge cycles. The last major feature is security.  This laptop has security features like BIOS administrator password and boot passwords like every modern computer.  But the Durabook goes a step further by including a Fingerprint scanner. This works by entering your fingerprint(s) on the finger sensor by sliding the finger down on the sensor. The software will register your fingerprint and ask if you want to swipe another finger as you can store all ten of your fingerprints.  The laptop also supports Trusted Program Manager version 1.2 and a Smart Card reader and Kensington Lock.
Made for the traveling businessman who works in a less than perfect environment, the Gammatech Durabook D14E Laptop is one tough product!
Pages