Table of Contents:
ECS H67H2-M motherboard
Manual
Driver DVD
Hardware Installation Guide
I/O shield
four SATA cables
ECS connector caps
e-SATA bracket
ECS bundles their H67H2-M motherboard inside an olive colored box. The front cover has a cool hologram across the entire front. The ECS logo is on the upper left hand corner of the box. Below the ECS logo is the name of the board along with a drawing of an alien holding a gun. The various features of the board are on the bottom area of the box, with the Intel chipset features on the upper right hand corner.
The back of the box has a picture of the motherboard on the upper left corner. The rest of the box has a list of the various features of the board. Opening the box we find that the accessories for the motherboard are atop a cardboard tray. The board comes with four SATA cables, an external SATA bracket that is 3.0 compliant, the Rear I/O shield, a Hardware Installation Guide a manual and the driver DVD. It is an interesting bundle.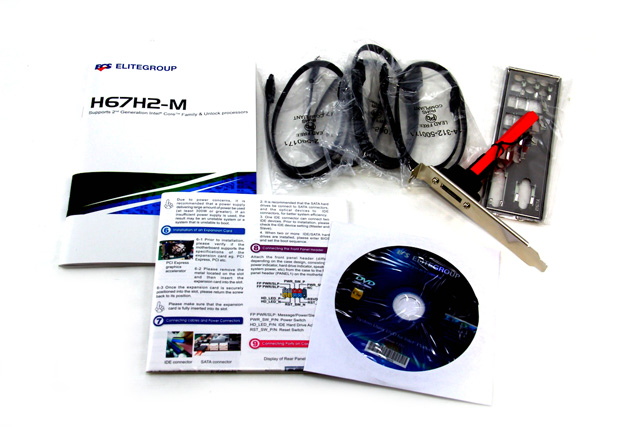 ECS has done a great job with their H67H2-M motherboard with four different display connections, which allow all current types of monitors to be attached to the computer without an adapter. This is a cool feature for sure.
Pages