Table of Contents:
Package Contents
Drobo DRO4D-D
User Manual
Drobo Resource CD
Power Adapter
Power Plugs
1 USB Cable
2 Firewire Cable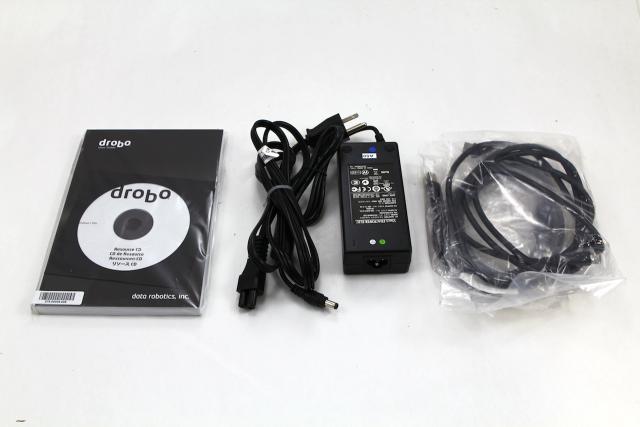 Aesthetics
Many storage unit devices including this Drobo are not much to look at in terms of aesthetics. They are just meant for storing data; nothing more, nothing less. But Drobo makes the units have a nice clean black finish and sleek rear panel that is flush with the rest of the device when closed. The drives are installed without the use of tools or screws which makes it much easier and faster to install drives or replace unstable ones.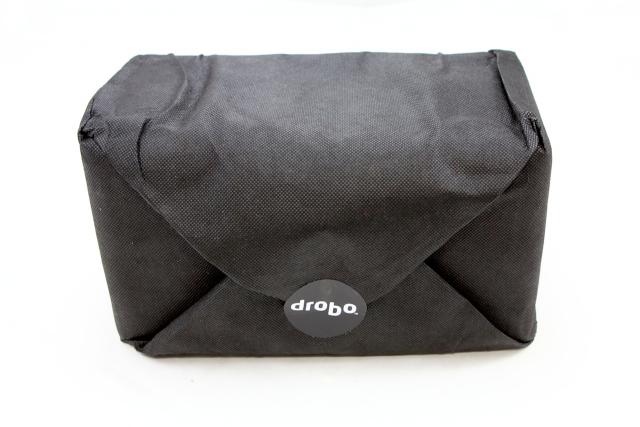 There are also lights on the rear that turn on when you first run the system. Blue lights are displayed on the bottom that acts as a progress bar for when the Drobo is booting and checking drivers/bay drives. And green lights are displayed after the device has booted up properly, green signifying that each hard drive is healthy. These lights will turn red if a drive bay becomes unstable or corrupted.
On the opposite side of the rear panel, there are 4 ports: 2 firewire ports, 1 USB port, and a 12v power connector. There are no internet ports for this hook into. It seems like this device is a just a external storage unit since it can only connect through USB and firewire ports. I wish it would have internet because since it costs a lot lower than some of the Thecus models, it might have been able to totally outclass them. However, Drobo still offers many features that are very beneficial for every user.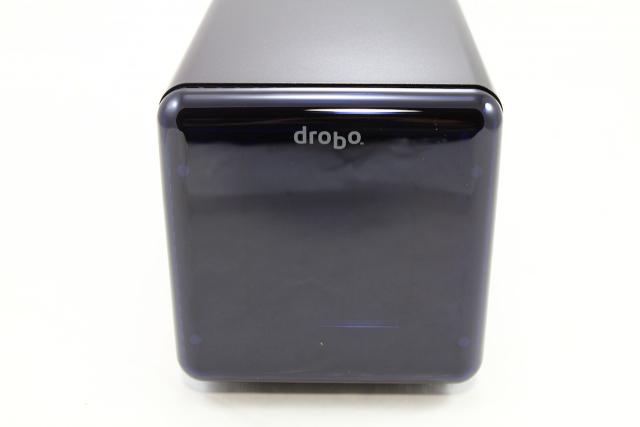 BeyondRAID technology
As we've seen before their BeyondRAID technology has one of the most amazing transfer rates in the market. It lets you format all hard drives at amazing speed regardless if you are performing a full format. I was able to format all 4 hard drive bays with 1TB hard drives each in about 10 minutes. And using quick format was really joke for it. I would just watch a commercial and it would be finished.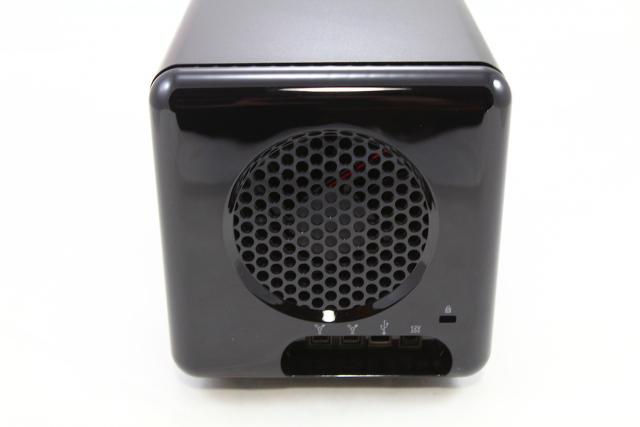 This is really comparable to a lot of other external storage devices like products from Thecus. Thecus stand-alone drive bay systems are great products but their speeds are just up to the speeds of the Drobo products I have reviewed.  Formatting on those systems takes hours on end. However, as I said before the main downfall of this particular Drobo, is that it is not capable to connect to the Internet. I think its something that should be included in every kind of hard drive bay system.
This DRO4D-D 4 Bay drive system delivers the same great technology but with much more affordable price. Its costs around 300 dollars and can store up to 12 TB of information (4 Bays x 3TB each). Let's see how their 4-Bay system performs since it will be catered to the average consumer.
Pages