Table of Contents:
BeyondRAID
As mentioned earlier, the Drobo B800i using their BeyondRAID system in order to store your information and keep its integrity. Most storage arrays prevent against single drive failures by just using the original RAID technology. However this requires the user to know how to configure the array into the right RAID setting (i.e. RAID 1, 4, 5, 6, 10, Jrob, etc…). With the BeyondRAID technology from Drobo, even if the person is not all that tech savvy, they can still set up the drives without having to worry how configure it. It is built into the Drobo B800i and addresses each drive according to how the volumes are set up.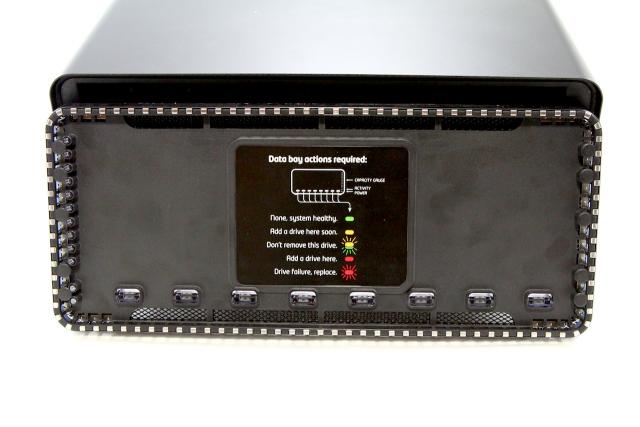 The B800i allows for instant expansion in volumes any time a new a bigger drive is installed into the system. This means that even if you have a volume that is only 8 TB, you can install another 3 TB drive and increase the volume right after. It allows for easy upgrading and maximum storage. Another thing to note is the very fast setup and recovery times when first initializing the system and when replacing drives. There are a set of blue lights on the right front side of the Drobo that show the available storage capacity of the Drobo and these are so easy that even a non technical person could walk by and be able to make a judgment call acknowledging that the Drobo needs more available storage and either simply ad a larger capacity drive in place of a smaller drives or ad another drive altogether if you have an open bay.
Drobo Dashboard Management
The Drobo Dashboard allows for any Drobo related product to be connected and accessed throughout the network. This driver works for all Drobo products and allows you to instantly set up any new Drobo you purchase. You can have multiple Drobo products that can be accessed from anywhere in your network. It makes this product, yet again, very efficient and effective. At the time of this release Drobo will have an even newer and better GUI for better control of your unit, or units.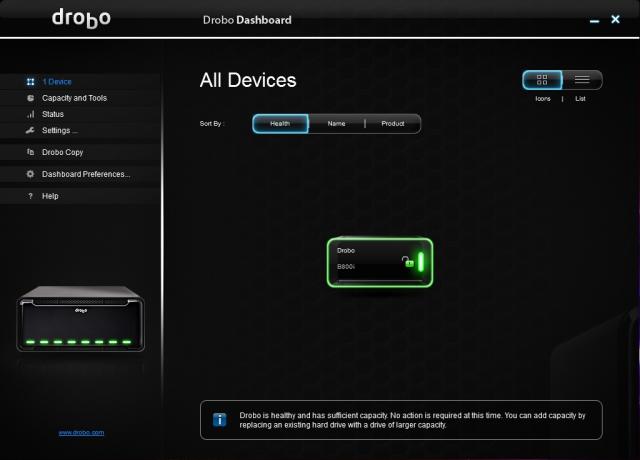 Overall the Drobo B800i is a great product that will allow your company or business to store its information quickly and efficiently. The amount of storage and its features to keep your information safe is a hard combo to beat.
Pages