Table of Contents:
Hooking up the Drobo B800i was simple and easy. Their installation guide helps you setup the product from beginning to end. You can also connect to the B800i with a MAC or PC no matter what computer set it up first. I think this is very beneficial for companies that have multiple computers with varying operating systems.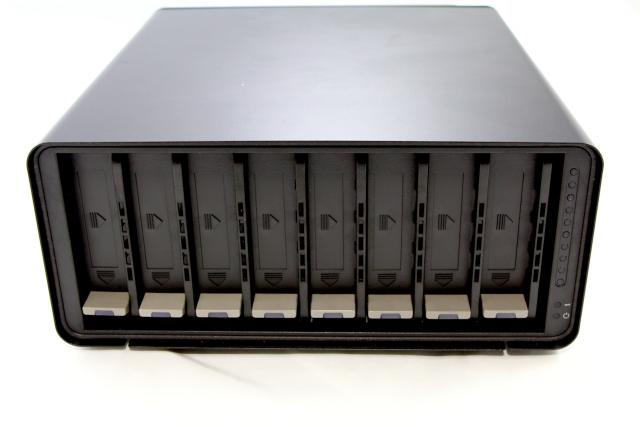 When you go into the Capacity and Tools tab, this is where you can set up the volumes. It has what is called BeyondRAID technology for allocating and storing the information. It allows any user to increase or decrease the volume of information they wish to store on the unit. What I mean by that is that if a drive becomes faulty, you can quickly switch it out for another drive and the B800i will make sure your information is safe without you having to worry about it. It automatically recognizes the faulty drive and once a new drive is inserted, it will keep your storage intact and redistribute it amongst the volumes. However, you can also increase the volume size as well any time. You can switch the drives out from 100 GB to 3 TB without any hesitations, just simply pull out the drive and put the new one in. It's really that easy.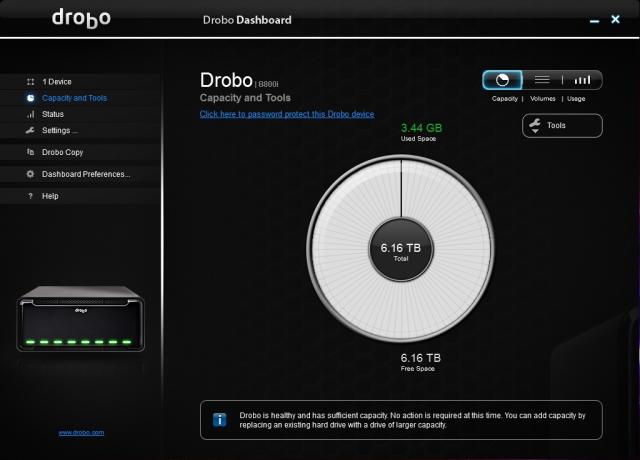 This product is also different in that it does not store information only using NTFS for FAT32 setting; it has its own way of storing information. You can also set different volumes with different operating systems and setting if need be. When you set up volumes, Drobo will give you a list of settings for the space you are creating. And you can set it up in any way you desire. It really makes this product accessible from all angles.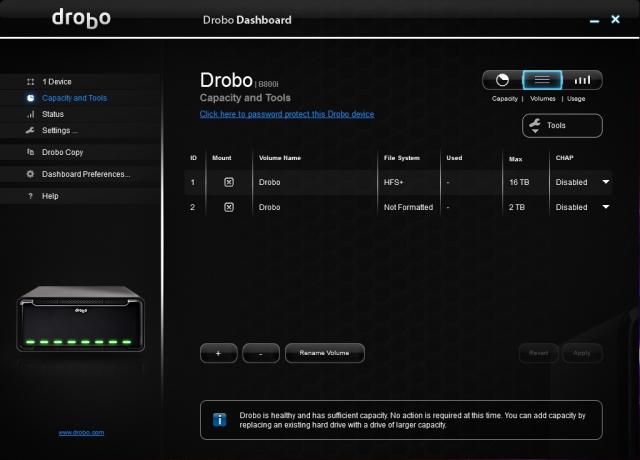 For getting this product hooked into your network, it should be noted that this product really works best with a switch or a modem with its firewall taken down. It took anywhere from 15-25 minutes for my laptops to recognize the Drobo B800i. However, I will not regard that as a demerit because this product is targeted for big corporations and not home office use. Also, you do not have to actually set up the iSCSI manually if you are not good with IP addresses and such because I was able to connect to it regardless.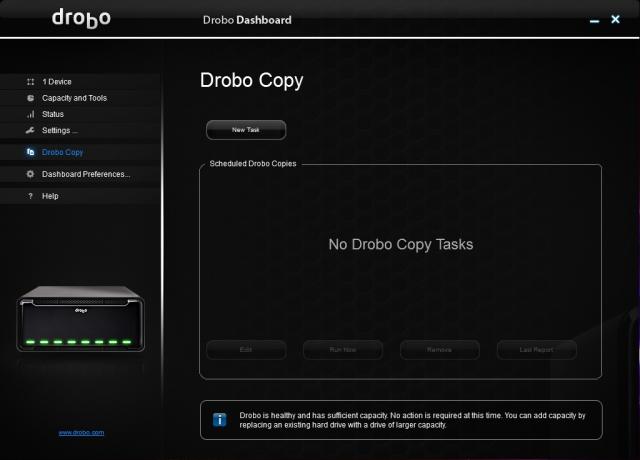 The Drobo Copy was a neat little tool that I think would be very beneficial to some companies that are looking to buy this. You can set up a schedule for the Drobo to automatically download and store information from a folder you desire. You can also set up multiple folders that will be stored into the Drobo at any time you need them to be updated. So lets say you need a folder that has critical information but it's also constantly updated as well. Well this tool can help you keep the folder safe even if the folder is updated with new information daily.
Overall the Drobo B800i is a great product that will allow your company or business to store its information quickly and efficiently. The amount of storage and its features to keep your information safe is a hard combo to beat.
Pages