Table of Contents: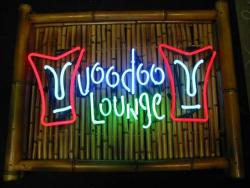 So after three days of sessions and keynotes, Paul and Shane Dickson from Gamer's Daily News and myself went to the local PF Chang's restaurant.  I ordered the Beef with Broccoli and a Coke. At first we were going to go to a Brazilian BBQ place, but Paul decided and I agreed that it would be better to use the extra money for the Hope Foundation which the Charity party was supporting.
After finishing dinner around 7:30pm we figured we had plenty of time to saunter into the Voodoo Lounge, night club in San Jose.  We were wrong. After picking up our checks, the waiter made us wait over half an hour for our change and credit cards back. Normally I wouldn't care as we had a good conversation on the show. The problem was we were waiting to go to the after-show party. After  some more waiting the host of the restaurant gave us our change and cards back. Upon leaving the restaurant he came running after us giving us all $20 Gift Cards. I must say, that I appreciate the gesture and if I'm in San Jose again I'll be sure to visit the restaurant again.
Ok the after-show party was at the Voodoo Lounge in San Jose. Upon arriving we bought our drink tickets and raffle tickets for the raffle and sauntered in. A large group of people including Ujesh Desai, Andrew Conrad and Andrew Humbar from NVIDIA and the show attended. Over $4000 was raised for the charity on a night of drinking singing and dancing.  As to the raffle I ALMOST won a 3D Vision kit including a monitor, missing the winning of the grand prize by transposed digits  5365 instead of 5356. NVIDIA's band included Ujesh Desai, Andrew Conrad and Bob Songer of NVIDIA with special guest Rudy Szarzo from Blue Oyster Cult.
Pages