Now that both the block and the installation have been covered, it's time to talk about performance. This block was installed in a case that provides really good air flow. Cooler Master's HAF X NVIDIA Edition case is about the best air cooling case on the market. With 3 200mm fans, this case is just a monster for air cooling. It also has a 140mm exhaust fan at the back of the case. To be honest though, I wasn't using the stock cooling fan for my CPU before getting this kit. I was using Corsair's H50 kit in a push-pull configuration. So this is what we'll be comparing the CPU cooling to.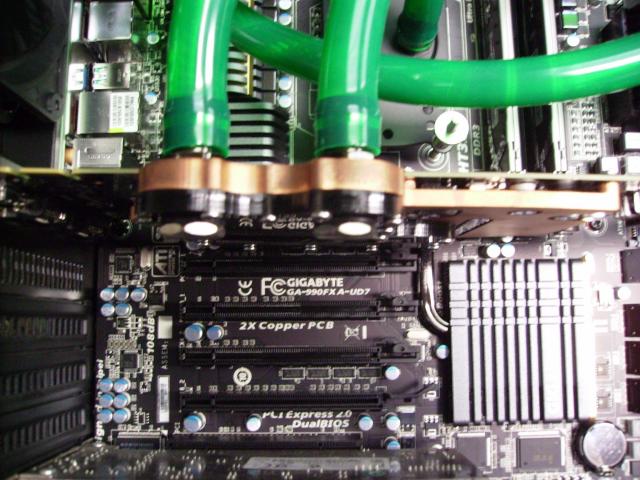 My processor is Phenom II 955 x4 Black Edition that comes clocked at 3.2 GHz per core. I ran it overclocked at 3.6 GHz and my maximum temperatures were about 51 degrees Celsius, with an average room temperature of about 29 degrees Celsius. I do realize that's a bit warm, but I'm living in Southern California with no air conditioning.  With this new water cooling system installed, I saw my temperatures drop to about 42 degrees Celsius at full load. As far as I'm concerned that's a pretty good drop in temperatures. I didn't really notice a difference in my idle temperatures though; at least not enough to even mention in this review. Water cooling is still only going to give you temperatures that are around the ambient temperature of the room it is set up in.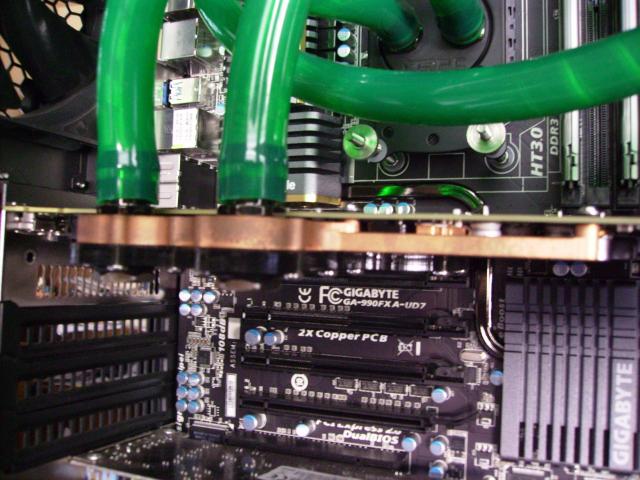 Now the water block was really able to show just what you can expect from water cooling. My graphics card was overclocked from the stock 822 MHz on the core, to 900 MHz on the core. My load temps while running 3D Mark 11 were 66 degrees Celsius, with an average room temperature of 29 degrees Celsius. With this water block from Danger Den, my load temperatures dropped to 46 degrees Celsius! That's a full 20 degrees cooler than the stock cooler was able to provide. This is a lot better than I was expecting. This block comes in at about 100 dollars. That's a pretty impressive drop in temperatures for 100 bucks. Of course if you were purchasing this with an entire water cooling system, the price would be significantly more. When you take into account that the kit that I installed this with only costs about 150 dollars and this block only adds 100 dollars more, you really do get quite a lot for your money.
Danger Den has really provided an incredible product here. It performs so much better than the stock cooler and its price isn't that bad if you've already got the rest of the kit.
Pages