Table of Contents: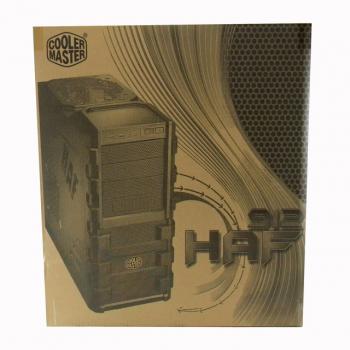 •            Cooler Master HAF 912 case
•            3.5" to 2.5" plastic adapter tray
•            Two 5.25" to 3.5" adapters
•            12 3.5" drive rails
•            Stand-offs 10
•            #6-32 screw 6
•            M3 screw 20
•            M3 screw 12
•            Spacers for 200mm fan
•            Cable ties 10
•            Screws for front fans 8
•            Buzzer 1
The Cooler Master HAF 912 case comes bundled inside a plain brown cardboard box. As the unit is retailing for under $60, this is acceptable and even preferable to fancy packaging that serves little purpose. There is a picture of the HAF 912 from the front and the name of the case. The top of the left hand corner has the Cooler Master logo.
The side has another picture of the cased. The rear of the box has pictures of the case opened up and the main features pointed to. The case itself comes packaged inside Styrofoam end pieces and a plastic bag. The standard bag of accessories including screws and standoffs is included to round out the bundle on the HAF 912.  There are also ten cable ties for wire management, four spacers for the optional 200mm front fan, and screws for the front fan.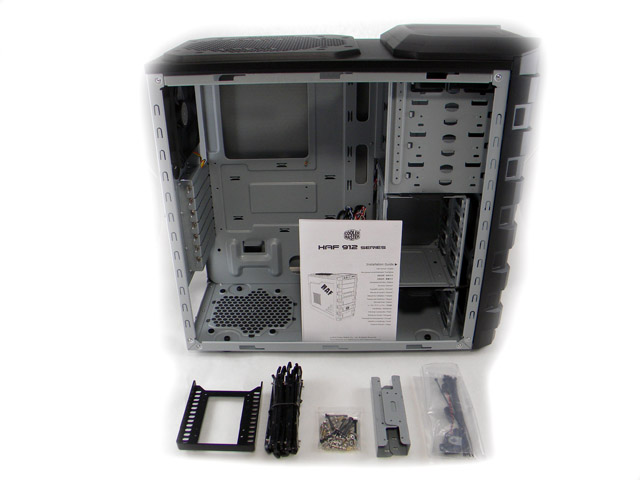 Cooler Master once again has a hit with the release of their latest HAF 912 Case, its has many nice features and a great price tag.
Pages