Table of Contents:
1 VM0404H Matrix Switch
1 Power adapter
1 Rack Mounting Kit
1 IR Remote Control unit
1 User Manual
1 Quick Start Guide
The VM0404H Digital Video Matrix Switch comes in a long brown box with a picture of a woman on the front. The box has a handle to carry the unit easily. Opening the box we find that ATEN has included the switch, a Power adapter, a rack mounting kit, an IR Remote Control Unit the User Manual and a Quick Start Guide.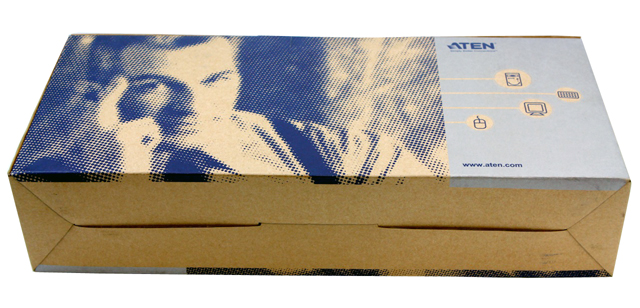 The IR Remote control is simplistic in functionality but it doesn't have to be complex.  There is a button to go up one port and down one port. There are also buttons on the remote for switching to a different port. This mirrors the buttons on the unit itself.  The Rack Mounting Kit is to install the switch onto a 1U Server rack as the unit can easily fit inside one of those and you can use the remote to switch between displays.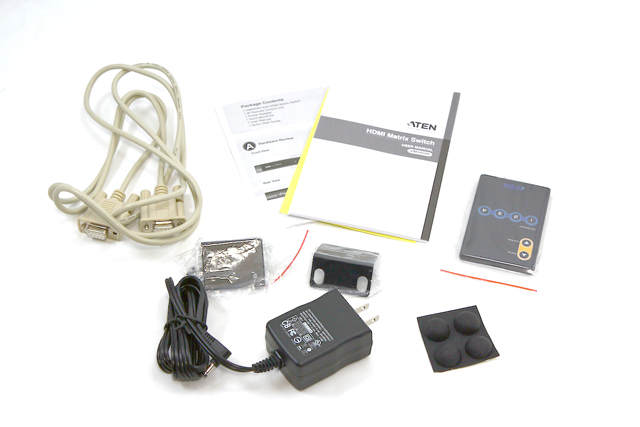 he ATEN DVMS is an excellent product for those having the need for multiple selectable HDMI inputs and a variable HDMI output, bars, churches and anyone who has this need will find the VM0404H a very handy tool.
Pages