Table of Contents:
First off, this board also features Asus TUF Thermal Radar technology. What this does is it allows the user to monitor several different thermal sensors placed strategically throughout the board. This is a great feature to have so that you can effectively keep tabs on how well your board is dissipating the excessive heat that your high-end components are producing.
By now many of you have become familiar with Asus' Sabertooth TUF brand of boards. They feature their CeraM!X heat-sinks that use a ceramic material that theoretically increases the surface area to aid heat dissipation. These are also very nice looking heat-sinks and should go well with just about any chassis. They feature a very nice brown and green color scheme that has a military style look to it.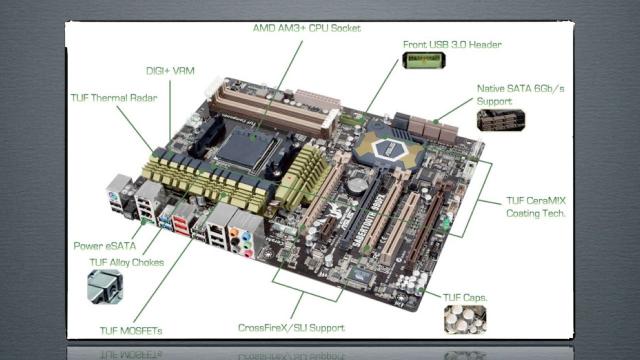 Asus TUF technology also brings solid state capacitors and MOSFETs that have been engineered to withstand the stresses that can be caused when running high-end hardware at their full potential. What this also means is that this board has been built to last. These components are built for stability and endurance that will give this board many years of use.
These boards are also independently certified to last and have been tested to meet the rigorous demands of a server environment. This means that they have been tested to withstand extreme humidity and temperature levels to guaranty their reliability and stability under the harshest conditions. The Alloy Chokes also aid in overclocking performance and surge protection by helping the board to regulate the power going to the essential components.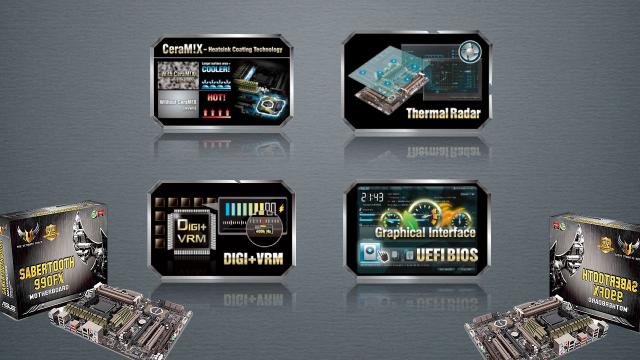 This board also features an incredible amount of expansion options. Right out of the box you get AMD and NVIDIA 3 Way GPU expansion options. This board does support Quad-SLI and Quad-Crossfire X, but only if you are running 2 dual GPU cards. The spacing of the graphics expansion slots don't allow for anything higher than 3 Way for single GPU cards. Asus also give you plenty of USB options. You get a total of 4 USB 3.0 ports and 14 USB 2.0 ports. With the Sabertooth a total of 8 SATA ports. Six of them run off the AMD SB950 controller and feature the latest SATA 3 bandwidth of 6 Gb/s.  The other 2 SATA ports run off the JMicron JMB362 controller and use the older SATA 2 bandwidth of 3 Gb/s. You will also get 2 1394a ports through the VIA 6308P controller. Asus also gives you an old-school PCI slot and a PCIe 2.0 x1 port for audio and SATA controller cards.
Asus has brought some great features and aesthetics to this chipset. Their TUF features are really nice because of their stability enhancements and thermal properties. This board also comes in at a very reasonable price for what you're getting in the box.
Pages