Table of Contents: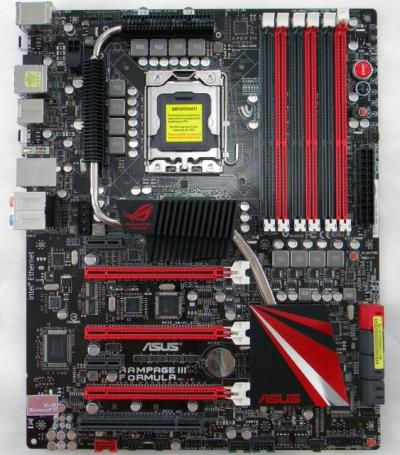 •            LGA-1366
•            Intel X58 chipset
•            36 PCI Express 2.0 lanes
•            SLI/CrossfireX On-Demand
•            Tri-Channel DDR3 2200 (OC) support
•            True USB 3.0 support
•            True SATA 6Gb/second support
•            Extreme Engine Digi+
•            ROG Connect
•            GameFirst
•            ProbeIt
•            BIOS Flashback
•            CPU Level Up
•            SupremeFX X-Fi  2 built in
•            Kapersky Anti-Virus
The Rampage III Formula is based upon Intel's x58 Northbridge/ ICH10R Southbridge combination that has been their high end configuration for a couple of years now.  The features of this chipset have been well-documented in previous reviews and I won't repeat them here except for a brief summary: Triple Channel Memory, up to 36 PCI Express lanes for the graphics cards, SATA RAID support.
ROG Connect is a technology that ASUS has implemented in their ROG motherboards to allow an extreme tweaker to attach a laptop to the motherboard and run diagnostics and overclocking features from the laptop like a racecar driver.  It's a cool feature that allows you to overclock outside the environment and tweak with more options. ROG Connect allows you to Flash your BIOS from the notebook meaning bricked motherboards due to a corrupted BIOS are a thing of the past when overclocking.
To go along with the ROG Connect the Rampage III Formula has BIOS Flashback with two BIOS ROMs, two BIOS settings, and twice the overclocking flexibility. BIOS Flashback allows the overclocker the ability to save two versions of the BIOS simultaneously. One BIOS can be used for the overclocking adventure while the other BIOS is to be stored with any previous version allowing you to switch to the other BIOS if an overclocking attempt fails.
'The Rampage III Formula has Extreme Engine Digi+ which is a combination of analog and digital design elements. The board is equipped with high performance digital VRM design that can easily achieve the ultimate performance with adjustable CPU PWM frequency. It expedites heat dissipation and achieves better electric conduction keeping critical components reliable.  Extreme Engine Digi+ balances the need for voltage and the desire for rock solid performance to bring the ultimate user experience.
iROG is a special integrated circuit, which enables several ROG, highlighted features that give users full disposal of the motherboard at any stage. This design allows advanced user control and management to be processed purely at a hardware level.  The CPU Level Up feature allows you to choose a selected CPU from a list and overclock your current CPU to that specification. GameFirst allows the motherboard to prioritize your flow of traffic through your LAN, allowing you to listen to online music, download and upload files, and engage in Internet chats without sacrificing the low ping times necessary for most multiplayer games.
Extreme Tweaker gives you the ultimate in adjustments as the board has frequency adjustment, over-voltage options or memory timing settings in the BIOS. Voltiminder LED shows the voltage status for the CPU, NB, SB and memory in a color coded fashion. Red means danger and the LED will be showing Red when the voltages of the motherboard are in the danger zone. Loadline calibration ensures stable and optimal CPU voltage under heavy loading. COP EX allows for maximum overclock with confidence.
ASUS has updated their SupremeFX sound solution to the SupremeFX 2 standard. The onboard CODEC is a Via VT2020 chip. ASUS updated the X-Fi MB solution from Creative Labs to support the latest EAX 5.0 HD sound.  As you might know most modern motherboards have support for DirectSound, with support for EAX 1.0 and 2.0. Early boards with the SupremeFX sound solution were able to take advantage of the EAX 3.0 and 4.0 capabilities found on most Creative Labs SoundBlaster Audigy and newer solutions. EAX 5.0 HD has 128 simultaneous voices processed in hardware and up to 4 effects each, EAX Voice, EAX PurePath, Environment FlexiFX, EAX MacroFX and environment Occlusion.
Overclockers and gamers will be very satisfied with the new Republic Of Gamers Rampage Formula III, its got what it takes to be a winner.
Pages