Table of Contents:
ASUS P8P67 Deluxe motherboard
4 SATA 6Gb/second cables
2 SATA 3Gb/second cables
SLI bridge
ASUS Q-Connector kit
DIGI+ VRM/BT GO! User Guide
Motherboard User Guide
USB 3.0 Front Panel Kit
The ASUS P8P67 Deluxe comes inside a black box. The front of the box has the ASUS Inspiring Innovation, Persistent Perfection slogan. Below that is the name of the motherboard: P8P67 Deluxe. The DIGI+ VRM/DIP2 logo is on the top right hand corner of the front of the box. The bottom left of the box has the main features of the board including LAN 2x, USB 3.0, BT GO! And EFI BIOS.
The back of the box has the main features explained in detail along with a picture of the board and the specifications of the board. Opening the box we find that ASUS has put the board inside a cardboard box and an anti-static bag. Below the box are the accessories, the Driver DVD and the manuals. ASUS has included four SATA 6Gb/second cables for use with the four SATA 6Gb ports on the board, two SATA 3Gb/second cables, an SLI bridge, the ASUS Q-Connector kit and the Front Panel USB 3.0 box. The FP USB 3.0 box acts as two USB 3.0 ports that connect to the motherboard's USB 3.0 headers.
ASUS has introduced a new interface with the P8P67 series the AI Suite II. This puts all of the tools such as TurboV EVO, PC Probe II, the temperature and voltage monitors in one place. TurboV EVO has a fast overclocking function that automatically sets the clock and multiplier to a known good configuration this overclocked the 2500K to 4.2GHz from the 3.3GHz default. The Extreme option has the system restart several times trying ever increasing clock speeds and BCLKs with a stress test. This setting got me over 4.6GHz off the 3.3GHz default. Here you can monitor voltages, temperatures and fan speeds.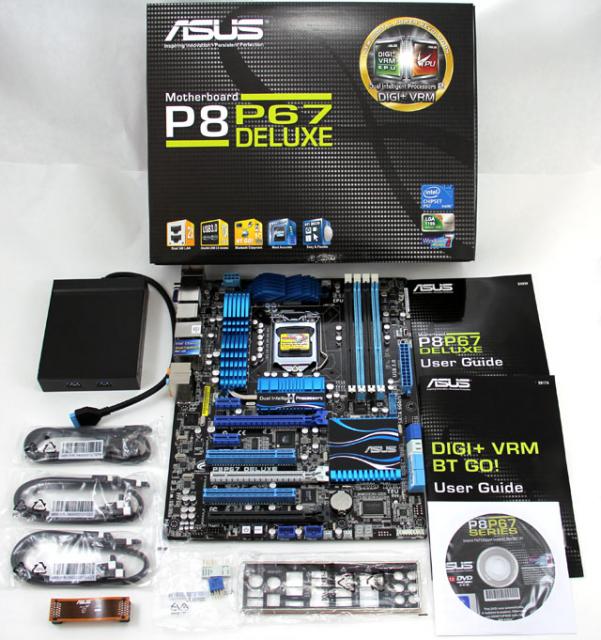 ASUS has really done an outstanding job with their new P8P67 Deluxe motherboard. This board has so many features that it would take a book just to list every feature available to this board.
Pages