Table of Contents:
ASUS P8P67 Pro motherboard
4 SATA 6Gb/second cables
SLI bridge
ASUS Q-Connector kit
DIGI+ VRM/BT GO! User Guide
Motherboard User Guide
USB 3.0 bracket
The ASUS P8P67 Pro comes inside a black box. The front of the box has the ASUS Inspiring Innovation, Persistent Perfection slogan. Below that is the name of the motherboard: P8P67 Pro. The DIGI+ VRM/DIP2 logo is on the top right hand corner of the front of the box. The bottom left of the box has the main features of the board including SATA 6.0 Gb/second, DIGI VRM+ USB 3.0, and BT GO! And EFI BIOS.
The back of the box has the main features explained in detail along with a picture of the board and the specifications of the board. Opening the box we find that ASUS has put the board inside a cardboard box and an anti-static bag. Below the box are the accessories, the Driver DVD and the manuals. ASUS has included four SATA 6Gb/second cables for use with the four SATA 6Gb ports on the board, , an SLI bridge, the ASUS Q-Connector kit and the USB 3.0 bracket offering two USB 3.0 ports . The FP USB 3.0 bracket adds two USB 3.0 ports that connect to the motherboard's USB 3.0 headers.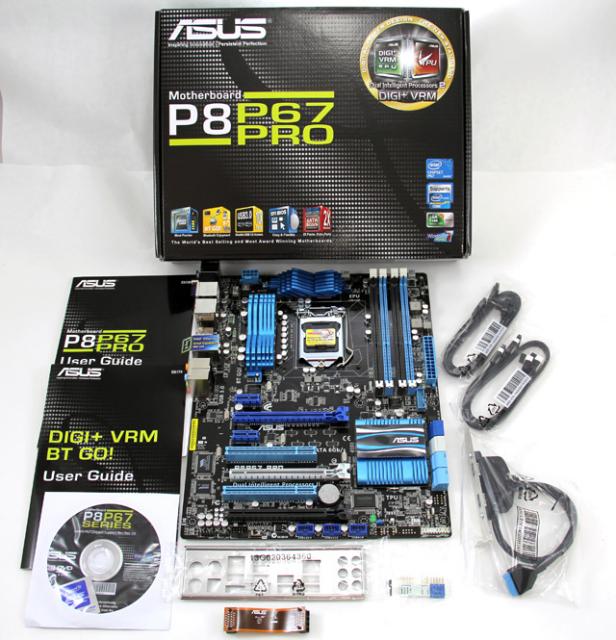 Overclocking options abound on the UEFI BIOS and I was able to get the multiplier above 46 on air giving a 4.6GHz overclock without much issue. If you're looking for a solid board in this price range for your new Sandy Bridge Rig, the P8P67 Pro is a choice you won't go wrong with.
Pages