Table of Contents:
ASUS has implemented the Unified Extensible Firmware Interface with their P8 series of motherboards.  This is the replacement for the BIOS that motherboards have been using for many years and brings support for large (Above 2.2TB) HDDs to the computer. Before the advent of UEFI, you were required to have a controller card to use drives of that size.
EZ Mode is the default mode of the BIOS Setup screen. The upper left hand corner has the System Time. To the right of that is where the name of the board, the BIOS version, the CPU type, and the Total memory on the system. To the right of that is the Build Date and clock speed of the CPU. Below that are readings for the CPU and M/B Temperature, voltage and fan speeds. Below that is the mode whether Energy Saving, Quiet or Performance. Boot device Priority is below that.
The Advanced Mode is where the Tweakers will want to be as it will give them the most flexibility to tweak the board. The menu bar on top gives you one click access to the Main, Ai Tweaker, Advanced, Monitor, Boot, Tool and Exit menus. The Main menu provides an overview of the basic system information and allows you to set the date, time language and security settings.  The Ai Tweaker menu is where you set the overclocking settings.  Here's a chart with the included settings. Note that the H67 Express chipset does not support multiplier overclocking and only was able to modify the BCLK by a few MHz, resulting in little overclock.
| | |
| --- | --- |
| Setting | Range |
| Ai Overclock Tuner | Auto, Manual |
| BCLK/PEG Frequency | 80-300 |
| Memory Frequency | Dependent on BCLK/PEG Frequency |
| GPU Boost | Disabled/Enabled |
| EPU Power Saving MODE | Enabled/Disabled |
| EPU setting | Auto, Light Power Saving Mode, Medium Power Setting Mode, Max Power Saving mode |
| CPU Ratio | Varies according to CPU |
| EIST | Disabled/Enabled |
| Turbo Mode | Disabled/Enabled |
| Turbo Ratio | Dependent on CPU |
| IGPU Max Frequency | 1100-3000 |
| IGPU Voltage | -0.635v- +0.635v |
| DRAM Voltage | 1.2v-2.2v with a 0.01v interval |
| CPU PLL Voltage | 1.2v-1.89v |
| PCH Voltage | 1.20V-2.20v |
| VCCIO Voltage | 0.80v-1.70v |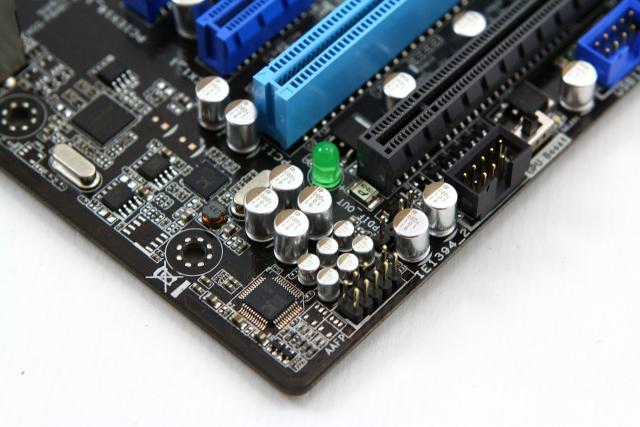 The P8H67-M EVO motherboard is an excellent example of the new breed of motherboards with support for CrossfireX using Quad-GPUs.
Pages