Table of Contents:
2 SATA 6 Gb/second Data cables
2 SATA 3 Gb/second Data cables
IDE cable
2 port USB 2.0/e-SATA module
Q-Connector
I/O Shield
Driver DVD
P8H67-M EVO User Guide
ASUS Badge sticker
The P8H67-M EVO board comes in a black box which is a smaller version of their full-sized ATX motherboard boxes. The top left corner of the front of the box has the ASUS Inspiring Innovation, Promoting Perfection slogan. Below that is the name of the motherboard: P8H67-M EVO. The upper right hand corner has ASUS's Protect 3.0 icon. The right hand corner of the box shows ASUS's 3-year warranty, the Intel CPU and chipset support and Windows 7 support.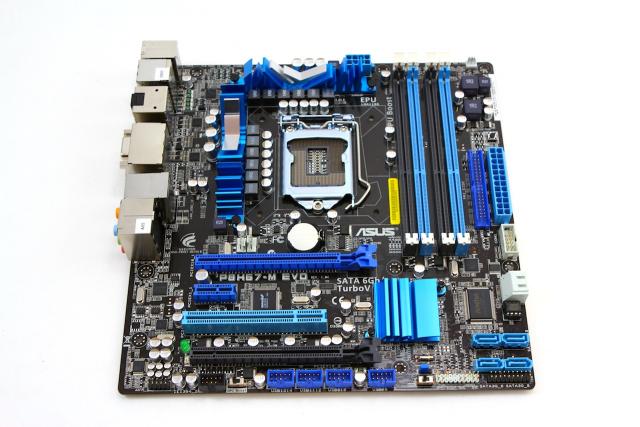 The back of the box has the various features of the board including the GPU Boost, EPU, AI Suite II, EFI BIOS and Anti-Surge features. The back of the box has the features of the board explained in detail. There is a picture of the board and specifications of the board. Opening the box we find that ASUS has bundled their board on the bottom of a cardboard separator that has the various accessories. This board comes with two SATA 6 Gb/second data cables, two SATA 3 Gb/second data cables, a 2-port USB 2.0/1-port e-SATA bracket, an IDE cable, the ASUS Q-Connector kit, the I/O shield, the Driver DVD manual and User Guide.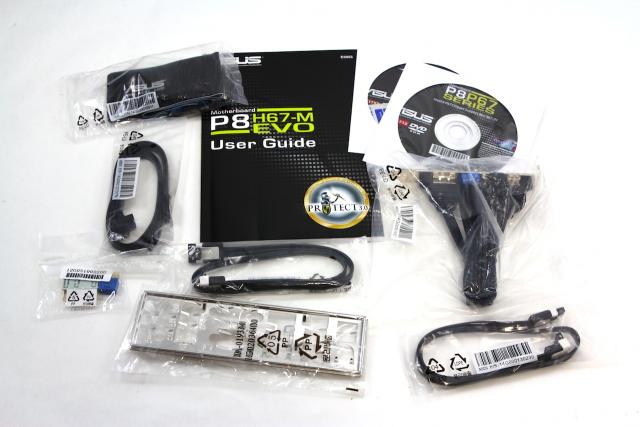 The P8H67-M EVO motherboard is an excellent example of the new breed of motherboards with support for CrossfireX using Quad-GPUs.
Pages