Table of Contents:
6 SATA Data cables
SATA Power cable
3-way SLI Bridge
2-way SLI bridge
2 port USB 2.0 and Firewire bracket
Q-Connector
GP Diagnostics card
Rear I/O shield
Driver DVD
User Guide
The P7P55 WS Supercomputer motherboard comes in a purple box similar to other Intel motherboard boxes. The ASUS logo is on the top left hand corner along with the Inspiring Innovation Persistent Perfection slogan. The center of the box has a picture of a room sized supercomputer along with a singular desktop with the P7P55 WS Supercomputer motherboard inside.
The top of the box has the Climate Savers Smart Computing logo, the various Intel CPUs supported by the motherboard, and NVIDIA Tesla, SLI and ATI Crossfire logos.  The right side of the box contains the Windows 7 Ready logo, and the main features of the design of the board including the 16+3 Phase Power design and 100% Ultra Long life Japan-made Solid capacitors.
The bottom shows the typical usage scenarios for the motherboard including Gaming, Productivity, Internet and Server. The back of the board box has a picture of the motherboard with pointers to the various features of the board and the specifications of the board. Opening the box flap reveals the features of the board in several different languages.
The bundle itself contains everything necessary to get started with your new workstation motherboard. Six SATA Data cables, a SATA Power cable, a 3-way SLI bridge, a 2-way SLI bridge are included. The SLI bridges signify that you can install up to three NVIDIA video cards in SLI. A USB 2.0 and Firewire bracket is included to provide additional ports. The GP Diagnostics card has onboard Power and Reset switches as well as a LED to show problem areas and is plugged into.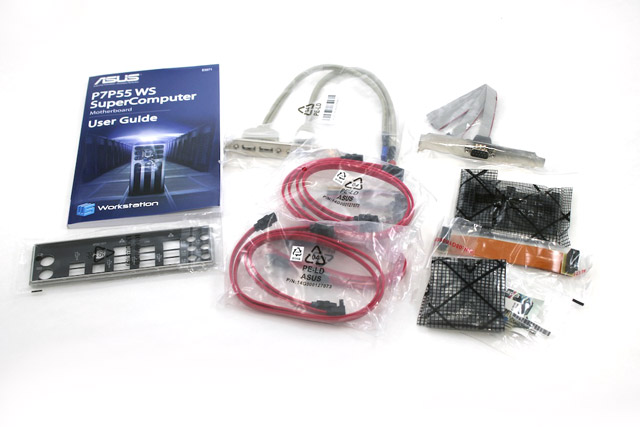 If you are looking for more than just your average desktop motherboard ASUS may have something you will love in the new P7P55 WS Supercomputer motherboard, check out the specs on this high-end product!
Pages