Table of Contents: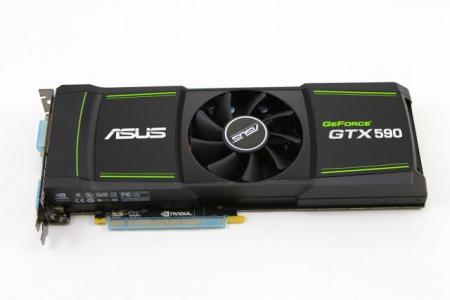 Graphics Card

GeForce GTX 590

Processing Units

Graphics Processing Clusters

8 (4 Per GPU)

Streaming Multiprocessors

32 (16 Per GPU)

CUDA Cores

1024 (512 Per GPU)

Texture Units

128 (64 Per GPU)

ROP Units

96 (48 Per GPU)

Clock Speeds

Graphics Clock (Fixed Function Units)

607 MHz

Processor Clock (CUDA Cores)

1215 MHz

Memory Clock (Data rate)

3414 MHz

Memory

L2 Cache Size

1536KB (768KB Per GPU)

Total Video Memory

3072MB GDDR5 (1536MB Per GPU)

Memory Interface

384-bit

Total Memory Bandwidth

327.7 GB/s (163.9 GB/s per GPU)

Fillrate

Texture Filtering Rate (Bilinear)

77.7 GigaTexels/sec

Physical & Thermal

Fabrication Process

40 nm

Transistor Count

3 Billion

Connectors

3 x Dual-Link DVI-I

1 x Mini DisplayPort

Form Factor

Dual Slot

Power Connectors

2 x 8-pin

Recommended Power Supply

700 Watts
The GTX590 is still based of the 40nm process and uses the GF110 Chipset that consists of various features such as 3GB of DDR5 memory, dual GPUs on a single piece of silicone and the first card by NVIDIA to support 3D Surround on a single card solution. This is also the first NVIDIA card to have native Display Port Technology and the card sports a Mini DP connection in addition to its three standard DVI connections.
NVIDA and AMD go about things a bit different to get the same results meaning that they both aim to bring you good looking graphics and framerates, but use different named technology to achieve doing so. NVIDIA uses 32 Streaming Processors in total 16 each per GPU, as the GTX 590 is two GPUS on a single piece of silicon. CUDA Core technology is the name child of NVIDIA's solution to all the nifty things you see on your screen such as water and all the in-depth characteristics of the landscape. The HTX 590 has a total of 1024 CUDA cores once again 512 per GPU and this should allow some serious graphics processing.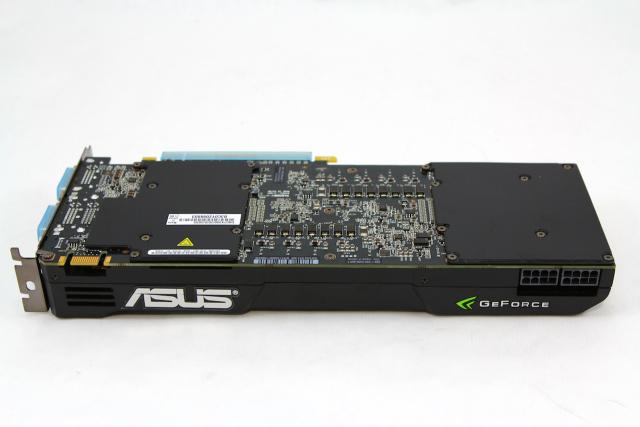 Texture units are a separate processor that is able to rotate and resize a bitmap to be placed onto an arbitrary plane of a given 3D object as a texture. In modern graphics cards it is implemented as a discrete stage in a graphics pipeline, thus allowing other processors on the card to perform in unison for better overall graphics reproduction and rendering. ROP's or the Raster Operations Pipeline is one the final steps in the rendering process of modern day graphics cards, pixel pipelines take both pixel and texel information and process it via specific paths and vector operations and calculate them into their final values. NVIDA has their own way of combining these technologies to get the maximum performance values from the silicon and onto your desktop.
The graphics core clock is the base speed of the GPU, and the GTX 590 has a clock speed of 607MHz, which is not engineered to exceed that value unless accompanied by a proper liquid or better cooling system due to excessive heat levels encountered with all dual GPU video cards. The CUDA cores are clocked at 1215NHz and the memory clock (Data Rate) is set at 3414MHz.  The 384-Bit memory interface is very fast and offers a total effective memory bandwidth of 327.7 GB/s (163.9 Per GPU) as well as 3072MB of GDDR5 memory (1.536MB Per GPU) that should come in handy in both high resolutions and Multi-Monitor configurations. The GTX 590 is the first card from NVIDIA to feature NVIDIA Surround Vision on a single card solution and this should prove to be a valuable asset to the cards selling points.  Overall NVIDIA has a power house of a video card with lots of features make it a worthy opponent for the Dual GPU market.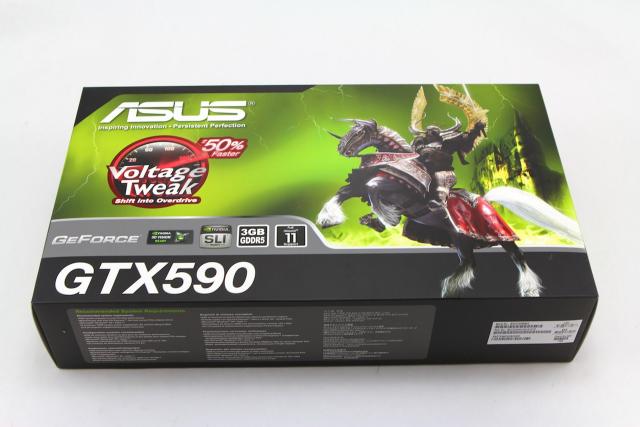 If you want the most pixel pumping power and are a fan of NVIDIA video cards, the new GTX 590 is the best single card solution you can get your hands on, its fast, its quiet and it plays any game with all the bells and whistles going without losing a beat.
Pages