Table of Contents:
ASUS ENGTX560 Ti DC II TOP/2DI/1GD5
Mini HDMI to HDMI adapter
DVI to D-sub adapter
Two 6-pin power cables
ASUS Driver DVD
Manual
ASUS bundles their new card inside a black box similar to their box for the GeForce GTX460 of last year. The top left hand corner of the box has the ASUS Inspiring Innovation Persistent Perfection slogan.  Prominent in the front left center of the box is the 900MHz Overclocked logo. The background of the box has a black knight on a horse in front of a castle. The main features of the card are listed below that and the name of the card is below that.
The back of the box has the features of the card listed and described. Opening the box we find that ASUS has included their usual Driver DVD and manual. For the purposes of this launch we used the 266.56 drivers provided by NVIDIA as the information files on the publicly released drivers don't support this card as of yet. Included with the bundle is Smart Doctor which monitors the clock speed, temperature and voltage of the GTX 560 Ti card in real-time, a mini-HDMI to HDMI adapter, a DVI-I to D-sub adapter and two power cables in case your power supply doesn't have them.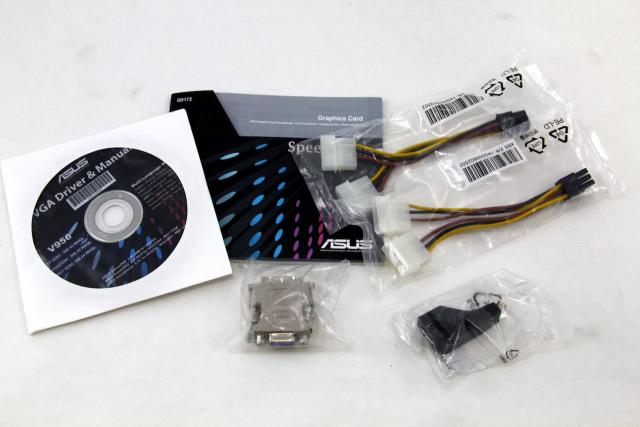 ASUS has done their homework on the new GTX560 Titanium DirectCU II Top Edition video card, its fast, overclocked and runs cooler than the standard referance cards from most manufactures with its unique design.
Pages