Table of Contents: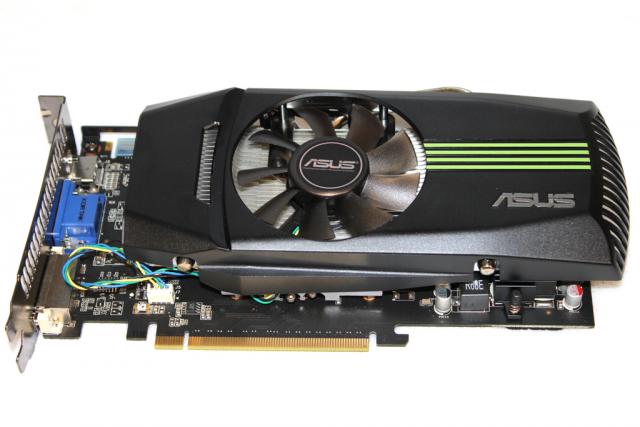 The first thing that struck me was the cooler on the card front. ASUS uses their DirectCU cooler, which uses two flat copper heat pipes in direct contact with the graphics chip. The design of the cooler is identical to that of the one used on the ENGTX460 DirectCU TOP card with the same cooler, fan and basic design. The cards are identical in length at 8.25" and the cooling should be the same.

The back of the card has the mounting bracket for the graphics chip and has the Part Number and Serial Number stickers on it. The card has a 6-pin power connector for additional power as the GeForce GTS 450 requires a maximum of 106W of TDP (Thermal Design Power) which is more than the 75W provided by the PCI Express bus. ASUS uses the same length design as the reference card at 8.25" in length.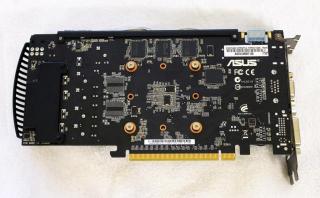 The card is capable of 2-way SLI operation and has an SLI bridge on top of the card to facilitate this. To run in SLI mode you must have a motherboard that supports it such as an X58 or P55 motherboard with the capability, two GTS 450 cards and a Power supply with two 6-pin power connectors. NVIDIA recommends a 600W PSU. The card comes with two Dual Link DVI outputs and a VGA output on the I/O bracket. ASUS has included a bracket that is stronger and stiffer to prevent uneven installations and minimizes the cracking on the GPU PCB.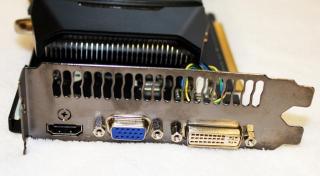 ASUS Unleashes their latest overclocked card into the VGA fray, the new ENGTS450 is aimed at the budget overclocker and has features to please most anyone.
Pages