Table of Contents:
·       ASUS GeForce GTS 450 DirectCU TOP Card
·       6-pin Molex adapter
·       Driver DVD
ASUS bundles their new card inside a nice black gift box with a green stripe running through the center. The top of the box on the left hand corner has the ASUS logo along with their Inspiring Innovation, Persistent Perfection slogan. Below that is their DirectCU cooler with the 20% cooler, 35% quieter features. A list of the features of the card including 1GB GDDR5, DirectX 11, Play games with IPhone and PhysX is below that. The name of the card: ENGTS450 DirectCU is on the bottom with a knight on a horse pictured.
The back of the card box explains the features of the card with a list of the features and an explanation.  Opening the box we find that ASUS has bundled everything in their standard interior box. The Driver DVD, a manual, a 6-pin Molex adapter is included which is all that is required to get started with the new video card. Interestingly enough, there is no included bundle game. NVIDIA has a promotion for their GTX 460 and above cards of getting Mafia II with purchase but this is designed for the $150 price point, making it moot as bundled games get old quickly.
ASUS includes SmartDoctor, which is their Hardware Monitoring tool.  They have voltage tweaks on their software, allowing for modification of the voltage of the card with Smart Doctor. ASUS says that they can get up to 50% overclock with voltage tweaks, but this should only be attempted by extreme overclockers with cooling outside of the norm and under very specific situations, as the clock speed of this card is already higher than the normal GTS 450 card.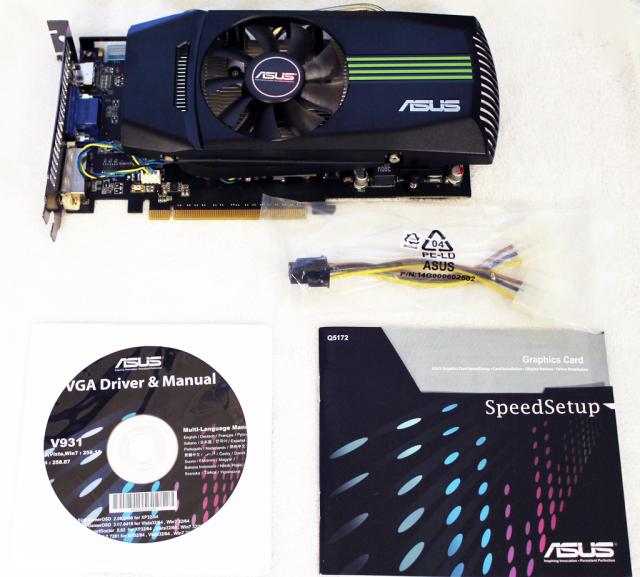 ASUS Unleashes their latest overclocked card into the VGA fray, the new ENGTS450 is aimed at the budget overclocker and has features to please most anyone.
Pages