Table of Contents:
The ENGTS 430 is a 2-slot card that is about 5.75" in length.  This is much shorter than the GeForce GTX 480 cards and two slot cards are the norm in this day and age. The ASUS card has a heatsink that runs the length of the card with a 9-fin heatsink in the center to cool the graphics chip when running. One cool thing about the fan on this card is the quietness. Two cards in SLI mode barely make any noise.
The back of the card has the mounting bracket and memory chips. There are four memory chips in an L-shaped configuration on the back of the card. The traces and configuration indicate a 128-bit memory bus. As the reference card is clocked a 800MHz clock speed, 1600 MHz effective for GDDR3 memory giving memory bandwidth of 28.8GB/second.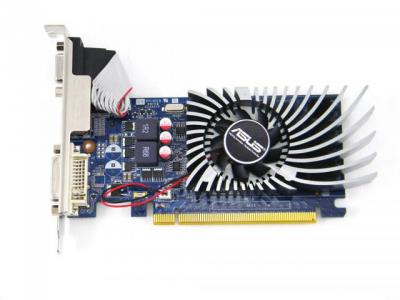 The GeForce GTS 430 does not have power connectors on the rear of the PCB. The card itself has a maximum TDP (Thermal Design Power) draw of 49W, which is far below that of the GeForce GTX 480 and 470 cards.  As the GTS 430 is designed for the high-volume HTPC and value segment, the 49W TDP is great for most users.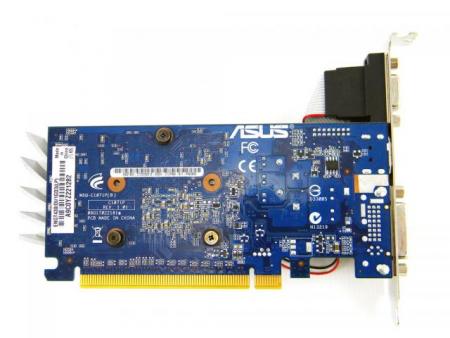 ASUS decided to go with two Dual-Link DVI connections and a standard-HDMI connection as the standard connectors for their reference GTS 430. As most HDTVs and monitors use either HDMI or Dual-Link DVI, especially in the target markets, the connections make sense. If you want to use a different connection to the card, such as a D-sub VGA or two, adapters are required.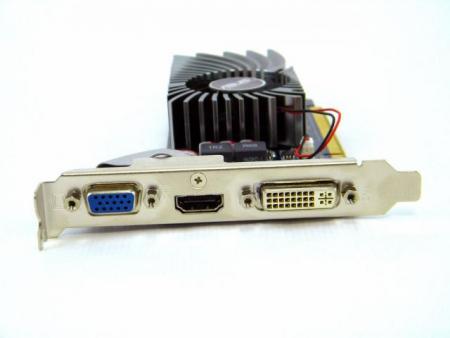 NVIDIA Breaks loose with a sub hundred dollar gaming solution!!!
Pages