Table of Contents: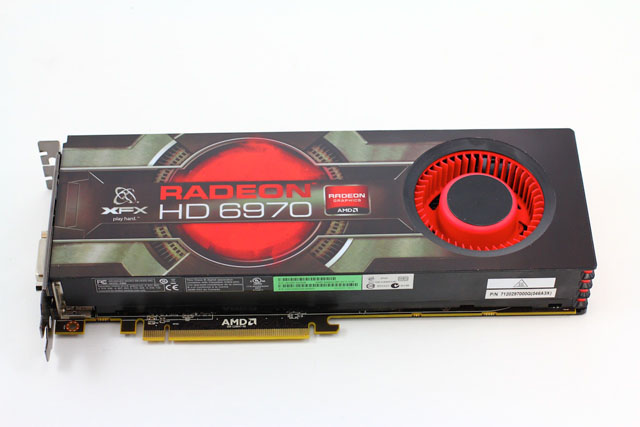 The XFX HD 6970 is 11 inches long, the same length as the previous reference cards as this is a reference HD 6970 in clock speeds and dimensions. AMD has switched to a 5th generation Vapor Chamber for their HD 6970 cards and XFX has built this into the card keeping the same cooling solution as the reference design. There are red stripes running the length of the card and the XFX logo sticker.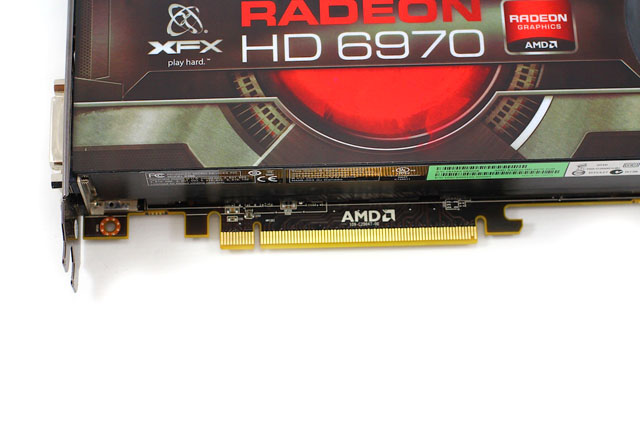 This is a two slot video card meaning that you will need the PCI Express x16 slot and an adjacent slot to install it in a system. The cooler casing is similar to the HD 6870 in that it's solid with red stripes in between. The top of the card has an 8-pin and a 6-pin power connector, in-line with the 250W maximum the card draws. There are two Crossfire bridges, meaning this card can be used with other HD 6970s to improve performance. There is also a dual-BIOS switch allowing for switching video card BIOS, one for overclocking, one for regular use.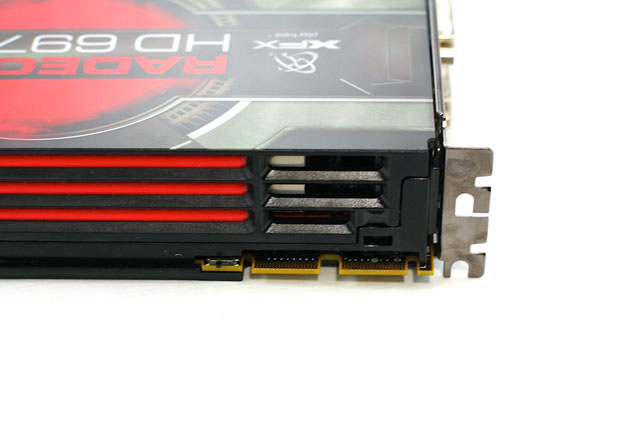 The back of the card has the back plate for the cooler casing and the mounting bracket for the GPU. It's interesting to see the design of the cooler as it is pretty close to what the 6870 design was. The connectivity on the card is two mini-DisplayPorts, a HDMI 1.4a connector and two DVI-I connectors. You can use up to six monitors if you use DisplayPorts and daisy-chain them as the card uses DP 1.2a which doubles the bandwidth from 1.0. Simply use mini-DP adapters and six monitors can be attached.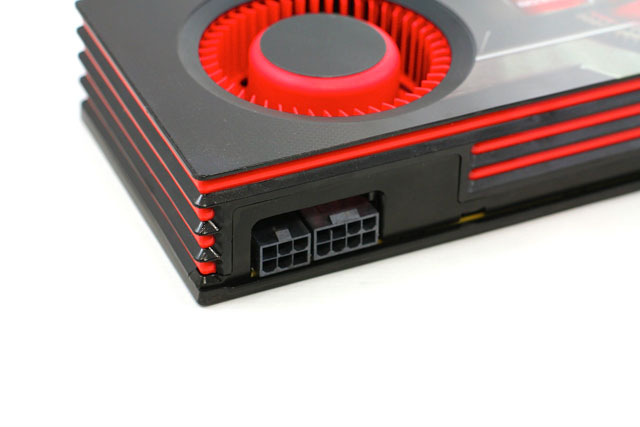 The XFX HD 6970 is a reference card in terms of clock speeds and specifications. That means this card is clocked at 880MHz for the core and 1.375GHz for the memory. The card has 2GB of GDDR5 memory which is more than the GeForce GTX 580 or its variants sports. GDDR5 memory effectively quadruples memory bandwidth compared to SDRAM. AMD designed the card with a 256-bit memory interface, meaning memory bandwidth on the card is 176GB/second.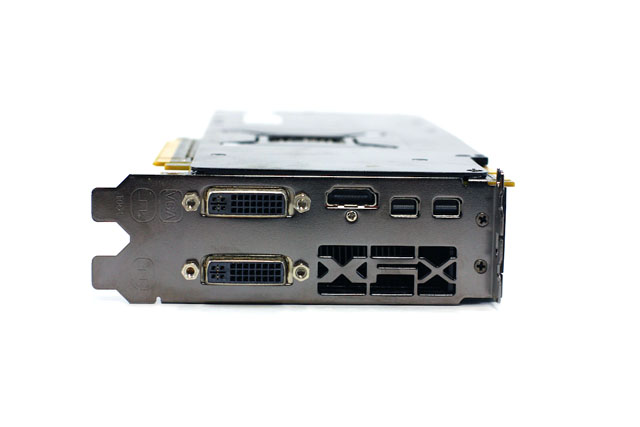 Today marks the day of the all new AMD 6970 video card launch and we have a full review of the XFX HD RADEON for you to check out.
Pages