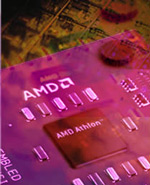 AMD is again hot on the heels of chip giant Intel and has once again pulled a rabbit out of their collective hat in the form of the Athlon XP processor. Based on AMD's 0.18-micron copper process technology with approximately 37.5 million transistors on a 128mm2 die and manufactured at AMD's Fab 30 wafer fabrication facility in Dresden, Germany. This means quality is going to be high as the German facility is one of the finest manufacturing plants in the world today.
The name XP implies that it is intended for use with the Windows XP operating system and that is exactly what audience AMD is targeting. The AMD Athlon XP processor is rumored to offer compelling performance for running Microsoft Windows XP, as well as outstanding performance on previous versions of Windows. The raw power and robust features of the AMD Athlon XP processor should enable users to make the most of multi-tasking and user switching capabilities offered in Windows XP.
Microsoft optimized the DirectX 8.0 interface for Windows XP with code made specifically for the AMD Athlon XP processor. The AMD Athlon XP processor's innovative QuantiSpeed architecture helps propel Windows XP application performance to a new level. To fully take advantage the rich features found in Windows XP, AMD and Microsoft worked together to optimize applications like Media Encoder 8.0 for AMD's 3DNow professional technology.
AMD is rumored to have worked side by side with Microsoft to achieve superior compatibility between AMD processors and the Windows XP operating system. The results provide a more stable system with reliable application performance and less system downtime. The AMD Athlon XP processor is compatible with more than 60,000 software applications, including the latest 3DNow! Professional and MMX technology enhanced software. There are a lot of different things that make this a serious competitor of a CPU and in this review we will try and touch on as much as possible so read on and see the whole review.