ATI has been in the business of making graphics cards for a long time. The first ATI card that I owned was the Rage II+ found on a Compaq Presario 233 MMX that was one of my first modern computers. At the time, ATI's cards were in virtually every modern computer OEM sold. NVIDIA was barely a factor in 1995, 3dfx hadn't released their first Voodoo card. Matrox was extremely popular with their Millenium II series of cards. Those were the good old days in terms of video card companies. Today, there are basically two companies, ATI and NVIDIA (3dfx is gone, Matrox is out of selling gaming video cards, S3 is now part of VIA and while their Deltachrome series of chips looks interesting, it hasn't hit the market as of yet, 3DLabs is now owned by Creative Labs.)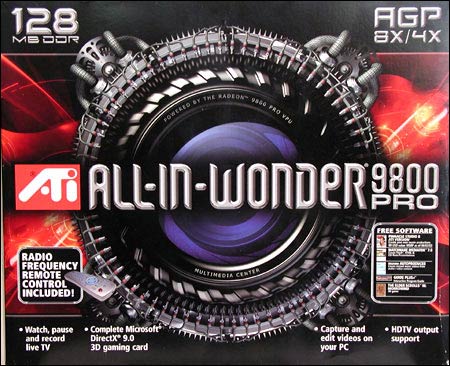 The video card market has seen a lot of old favorite companies of mine go into the night. Names like Diamond Multimedia, Orchid, STB, Elsa (currently back in a new form), Visiontek (bankrupt, and now owned by Hartford Computer Group) and so many others it's hard to remember them all, are either gone completely or back with new owners in a new form. Anyway my purpose of going down memory lane is to give a historical perspective on what's gone before, not to bore you with details of companies and friends that no longer are in the business.
ATI has released a new generation of chips for their video cards on a regular annual basis since 2000 with the release of the RADEON. While I'd love to go into ancient ATI history, it really isn't my purview in a AIW 9800 Pro review. The release of the RADEON in July of 2000, began 3 years of constant evolution of ATI chip technologies including the release of the RADEON 8500, the release last year of the RADEON 9700 Pro and the release this year of the RADEON 9800.
The first All In Wonder card was the All In Wonder based upon the Rage series of chips. The AIW took the Rage chip and added a full blown TV tuner to the regular features of the video card. It was released in 1996 to great acclaim. Subsequent to the release of the first AIW, ATI has released cards with the AIW moniker based upon virtually every card that they designed. AIW cards include: AIW, AIW 128 Pro, AIW RADEON, AIW RADEON 7000, AIW RADEON 7500, AIW RADEON 8500 DV, AIW RADEON 8500 128MB, AIW RADEON 9000, AIW RADEON 9700 PRO, and now the AIW RADEON 9800 Pro reviewed here.
February of 2003 ATI announced their update to their high-end 9700 Pro, the 9800. Subsequent to the release of the 9800 in May, they announced the All In Wonder RADEON 9800 Pro, continuing their habit of releasing a All In Wonder product for each new high-end chip. The first retail AIW 9800 Pros were released early in July. Interestingly enough, ATI got my review unit shortly after the July 4th holiday, and it's the first 9800 Pro that I've tested with any length of time. You can read my previous RADEON 9800 Pro review.