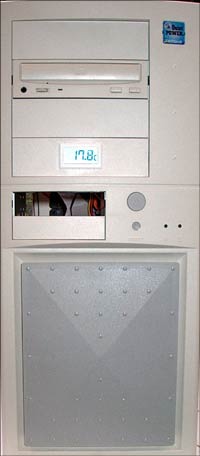 Many people still shy away from the thought of cooling their system with liquid due to the supposed risks of an H20 cooled environment. This in my opinion is just antiquated thinking. Cooling with water is becoming more accepted everyday as an alternate way of efficient cooling for the PC, and it can be done without risk to your system.
Switech, one of the pioneers of water-cooling units was started by an engineering gentleman named Gabriel Rouchon. Gabriel loves to tinker as mush as any hobbyist I have ever met. Swiftech makes almost everything by hand, and uses machines only for the actual milling and lapping of there copper parts. This is a real advantage over companies who use prefab aluminium parts.
Swiftech is well known for their air-cooled heatsink products and has won the favour of many an overclocker, and award recognition by various hardware sites across the Web because of the quality that goes into every design. Does this case rock and roll? I was able to take my unlocked 2.2GHz P4 all the way up to 3.0GHz without missing a beat. So I would have to say, yes sir.
Check it out yourself, read the whole the review. I think you are going to like this one, and if you are an overclocker, you are going to love it. Trust me.