Doc Overclock · 03-13-2001 · Category: Interviews
Conclusion
Shuttle's Warranty Policy (Taken directly from Shuttle's Web site)
Shuttle offers warranty on all of its products ONLY to direct ("original") customers unless otherwise indicated. The warranty, in turn, offered by Shuttle's direct customers may be different from one to another and it's basically their own business strategy. In other words, any warranty covering Shuttle products is provided to you by your point of purchase.
Shuttle apologizes that we can not provide warranty service IF the product is NOT purchased directly from Shuttle. May we remind you to verify the warranty terms at your place of purchase before you buy a Shuttle product.
Sales, Service, and Support
Shuttle is a multi-national company with a strong commitment in customer service. Regional sales offices are located in the United States, Germany, Italy, Poland and Taiwan. Localization plus reliable after sales service and prompt technical support have enabled Shuttle to maintain a strong relationship with its customers including system integrators, VARs, OEMs, ODMs and distribution networks.
In order to ensure round-the-clock service & support, Shuttle is accessible by E-mail, Web site and BBS.
Conclusion
Alan Lee is a great guy to talk with, and he has the proper mix of Asian/American ideas in his head to be a conducive force in leading his sales team in the right direction here in America. The technical staff at Shuttle were more than willing to talk openly about their products their problems and other geek stuff that I find myself engrossed in daily with great pleasure.
I think with a little modification in their marketing scheme, these guys will make a solid stand for themselves here in America and survive the ever changing computer business. It was really fun to go and meet with this company. They have many good ideas and a lot of very nice people working on their team. Thank you, Shuttle, for the tour, for the talk, and for opening your doors to me in such a friendly way. I enjoyed meeting with you and spending my day in your establishment. I wish you guys the best in your mission and hope you do well.
Doc out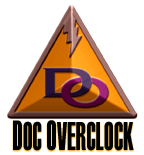 Contents