Doc Overclock · 12-18-2000 · Category: Interviews
Conclusion

Transcend's Warranty Policy (Taken directly from the Transcend website)
At Transcend, we are so confident in the memory products we ship that we were the first company in the world to cover them cover them all with a lifetime warranty. And our motherboards are covered by a two-year warranty. As a Transcend customer, you have the reassurance of our cast-iron guarantee and can buy from us with total confidence in our excellent after-sales service. Find out more about our procedures for returning faulty or damaged products.
In Closing
As you can read, Transcend has their act together, and the motherboards we have reviewed have all been top notch. I hope that if you had interest in this company that you learned a little something. Look for three more reviews on Transcend motherboards over the next week or so. Eric Bafford has assured me more products are being released next week, and we will have some to check out. I was not able to do a live photo shoot, so that's why there are a lack of location photos, but in the links to their branches there are pictures (which is just as well, as I am a lousy photographer). Transcend is still a newcomer to the American motherboard market, but they are steadily gaining momentum.
Doc out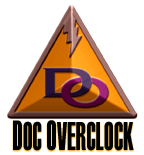 Contents