Elric (Doc Overclock) Phares · 03-25-2007 · Category: Interviews
Why EVGA? Andrew Han Has the Plan
Part One: The End User Connection
Andrew Han is a gentleman who is light years beyond many people in this business as well; for starters he is a technical wizard who thinks way outside the box. He started making waves in the Industry back in his days as one of the founders of EpoX. He rapidly outgrew them and as their then leader fell under scrutiny of black market trading Andrew had already moved on to bigger better, and more legitimate prospects. The thing that has always impressed me about Andrew is that he is a dreamer like many of us are, but with one difference, when it comes to technology, he can implement his dreams into reality. If you pay attention to the who does what in this industry you will note that only EVGA of the major VGA slingers had taken the chance to stretch their wings and make motherboards as well as VGA cards until now. RMA and support on motherboards is whole different animal than VGA cards and this has daunted XFX and BFG to jump in this market. Andrew and team have been making motherboards with the NVIDIA moniker for the last few years. This is one of the major reasons they should be considered when making a decision on what motherboard maker you should choose from in the days to come.
I discussed with Andrew a few key points that also make EVGA a cut above the average company and I think he knows what the end-use wants. One thing that Andrew stressed was their companies vow to be loyal to their customers in ways that exceeds other companies. Things like unlimited lifetime warranties, 24 hour customer service and better designed motherboards that differ slightly than the stringent design control that NVIDIA takes to insure quality control are key elements. Andrew wants the best quality motherboards available to be made by EVGA and for them to have the most robust support, but that comes with experience as anyone knows, and with that in mind EVGA has an entire community http://www.evga.com/community devoted to solving problems and getting to know their products from both sides of the coin. This has been a very good thing for their users as it offers a place where they can actively talk to other users and the staff at EVGA about any problems or strange happenings with their EVGA motherboards. They also offer their users a trade up program that allows users on a limited basis to actually trade in their older EVGA card for a newer faster model; this is a very cool thing for the end-user and not offered by many manufactures if at all.
They have an excellent customer service team that has some of the most advanced programs to track and respond to end-user questions and support including RMA. There is a large screen in the front of the room they work in that shows how many customers are in their queue, both online and live and how long they have been there. This helps keep the team focused and motivated as the challenge among the guys is to keep on top of things and monitor events in real time. Virtual- support is also a factor in support, as EVGA has a staff of people that also work from their homes who are tech geeks and help assist in support by way of answering many of the questions end-users have about their product, its drivers and many problem solving techniques to help get them up and running again. These positions are available and you can work anywhere in the world, so if you feel you are a wasting talent contact EVGA about becoming a part of their expanded family. This is a very helpful thing and is actually something we have done here at motherboards.org for years as many of our members and staff work from home from around the globe 24 hours a day answering questions as volunteers to help people with their PC problems. EVGA has taken this a step further and offers paid positions for this help, which a big motivator as the positions pay by a per satisfied customer basis.
EVGA motherboards are a focus Andrew has taken a keen interest in, and that comes as no surprise knowing his background at EpoX and his degree in Physics. His personal goal is to make sure that the motherboards made by EVGA offer something more than the standard faire being made by NVIDIA and remarked by the companies who resell them. NVIDIA holds a very tight reign when it comes to how, and who can sell their products and chipsets. Andrew works hand in hand with many of the engineers and people at NVIDIA who are responsible for the motherboards being sold with the made by NVIDIA moniker. This gives him an insight on the direction of the chipset as it matures, and also enables him to implement his own ideas seamlessly into the EVGA branded motherboard. This also helps in areas such as driver development and implementation of new motherboards to market. Being knowledgeable about what makes technology work and how to use it is a valuable asset to EVGA, and it only makes things even better for the people who trust in their name brand motherboards. So there you have it in a nutshell folks, EVGA has a commitment to loyalty and open communication with their customers, and they have the technical know how to bring better than average motherboards and VGA cards to market. Their over all customer support is very well managed and end-users will have no trouble getting help with any problems they may incur using EVGA products, that in addition to the fact that their man on top is involved in the daily running of the EVGA ship makes this a company dedicated to their customers above and beyond the norm.
Part Two: A Partner Who Works In Real Time
Okay so we have talked about why the end-user should rally to the EVGA banner, but what about the stores and suppliers who buy from them. For them EVGA also offers excellent support and customer relations to their partners via their online software program that accurately tells the customer how much product is available on the shelf now, when new product is scheduled to be back on the shelves as well as future price predictions and new product availability. Being able to plan your sales strategy comes much easier when everything from the ground up is in real time and can be monitored 24/7 anywhere in the world. EVGA also offers many offers that involve giving an item away with the purchase of one of their other products, which is a tremendous sales booster and helps solidify their name branding process for better movement of their product from shelf to street. They have taken the necessary steps to make doing business with them as painless and non-confusing as possible and are still working further in that direction to serve you.
24 Hour Tech Support
lifetime Warranty
Trade Up Program
Virtual Tech
EVGA Community
On Line Real Time Inventory
Highly Involved With NVIDIA
Stable And Overclocked Products
Excellent RMA Program
Strong End-User Communication
That about wraps this one up people, as you can read there are many aspects of EVGA that many people have no idea about and that translates well to both the end-user and their industry partners. This company should only grow stronger and as BFG once again plays its name changing game and goes under EVGA still stands strong, making only XFX the remaining (NVIDIA Only) strategic partner in America. EVGA is company you can trust and Andrew Han is a man who values your trust in his company. Special thanks to everybody involved in the tour and at the company for their time and patience. Look for new motherboards and VGA cards to be released right around the corner, and as Direct-X 10 becomes a reality look for NVIDIA and EVGA products to support this new technology. Well until next time folks!
Doc out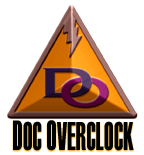 Contents