Niso Levitas · 03-06-2002 · Category: Interviews
Technology: A Look 2 to 5 Years in the Future
I don't care what others say about the Intel Developers Forum. This was my sixth trip to IDF, and every single time I have seen visions of the future. When will Serial ATA be on the market? Three years ago they were giving away promotional items with "Serial ATA" written on it. A New hard drive IO standard sounded so interesting I attended the class.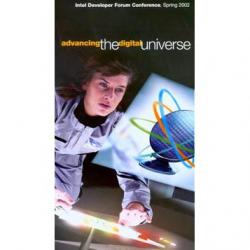 I have been able to learn and see the new technologies such as USB, USB 2.0, new chipsets, new packaging designs, and first drawings at each IDF a minimum of 2 years before the technology hit the market.
Intel Developers Forum is the place the technology creators and product manufacturers meet every six months. The first idea was to show what will be next in the IT business market, and informing the industry about new technology standards. Of course industry and press does not always think Intel is doing the right thing about standards, but it is a good place for learning and discussing what are they doing wrong. Over time we have seen the market force Intel to change or postpone some of those standards.
Yes it is a geek show, and getting more technical each year. We are happy about it because the marketing stuff was very dull. This is an Intel show, and of course they will emphasize their name, but the information was so overwhelming, we don't care about that. I'd like to share the motherboard and chip technology at IDF briefly with you.
Contents