Doc Overclock · 04-06-2001 · Category: Guides
Restoring the Address Book (Contacts)
Before copying any files back to your computer, you will need to select the View Properties options of the Application Folder that you saved previously and remove the "READ ONLY" check (IF checked).
If data was backed up on CD, you will first need to copy the saved folder to your hard drive and then uncheck the "READ ONLY" option if it is checked.
If the files are marked "READ ONLY" they will not import.
After installing your Windows operating system, open up Outlook Express, and go to File, Import, Address Book, as shown in the photo below.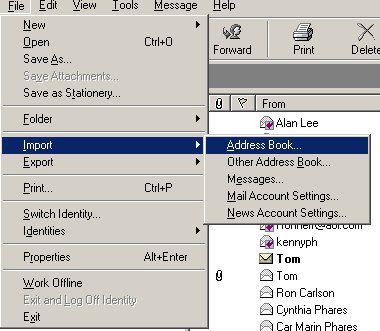 You must then go find the file D:Application DataMicrosoftAddress Book, (D: being the media it was backed up on), find the "WAB" file, then double click to open it.
This will begin the process of restoring your Address Book.
After it has performed the required task, click "OK" and that is it. You are done and your files should be restored.
This is a very simple thing to achieve, and this task should be able to be done by anyone who owns a computer. And the files will fit onto a floppy disk, so backing the files up and having them ready to restore is easy enough for anyone to accomplish.
Contents