Articles :: How to Flash a BIOS Without Giving Yourself a Headache :: Motherboards.org
Doc Overclock · 12-12-2000 · Category: Guides
Conclusion
This is a lot easier than most of you thought, and now you won't have to stress on flashing your BIOS in the future. I have to use a flash program every day to one motherboard or another, and it is either smooth as butter or just not meant to be. I hope this helped some of you who were a little timid about this procedure; to you I wish good luck. If you still feel daunted, you can take it some where to have it done by a so-called professional. But if you're like me, you go stir crazy without your computer, so I tend to live on the wild side and do my own upgrades and BIOS flashes. If done right this is a very simple procedure, and can be accomplished by even a novice computer user.
I would add as a an after note that if your system is working fine and you don't need to flash your BIOS, do not do it. A BIOS flash should only be done if you are having system problems, or are using equipment which the current BIOS does not support and flashing the BIOS would support the new hardware. The age-old motto is: "if it isn't broke, don't fix it."
Doc out.
The decision to upgrade your BIOS is yours. By following the procedures outlined in this article you agree that Motherboard HomeWorld is in no way liable or responsible for any resulting loss of system functionality. If your system is working without problems or conflicts, then it is not recommended that you flash your BIOS.
Doc out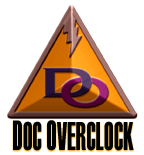 Contents