Articles :: Building A Low Cost SLI Gaming System: Part One :: Motherboards.org
Doc Overclock · 04-26-2006 · Category: Guides
Introduction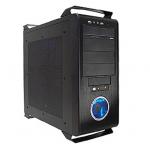 Gaming systems 101
If you are looking for a PC and walk into a company that sells systems, one of the first questions you should ask yourself is "What is the system's primary usage going to be?" If you are searching for a gaming machine, it is usually overpriced or underpowered right out of a box. This is what I have seen through watching others buy pre-built machines. I play games all the time. Just don't tell anyone okay, my boss thinks I'm working here. Therefore, I have developed a genuine feel for how smooth and visually aggressive a system is running games from a user's point of view. Contrary to a sales representative's pitch however, is that a gaming system's components do not have to cost a fortune to function well.
Most gaming systems sold at companies or online e-tailors are usually just adequate as gaming systems, especially if under the $1000.00 radar and are single card, not SLI based. Technology wise, SLI is currently the most accepted and coveted setup for high-end gaming. Although ATI's CrossFire solution is starting to take shape, right now, NVIDIA still has the market share of dual card solutions. We test many things here in our lab, from high-end super goodies that can shred anything, down to affordable, yet primarily functional products. Playing with these parts for months on end is what we thrive on here, as it really gives you a feel of what things function like in different usages.
When I started trying to build a system for a friend who was short on cash, but still wanted a fast system for gaming, I really looked closer at what was affordable and yet kick-ass enough to play the current FPS game F.E.A.R. I was looking to construct a system that played the current crop of games even at decent resolutions and the features of the cards set to high, without hiccups. Nowadays, in many cases, games are CPU limited using SLI cards, so the need for an expensive CPU is really not as major of a factor in the systems configuration. Many lower end or so-called entry level CPUs will work just fine. The Sempron and Celeron class CPUs, that often just get sour looks from people when you mention them, have all the firepower needed to play games when using VGA cards that the GPU does most of the graphics work for anyways.
You will hear the term "multi-tasking" thrown around a lot these days and for some people that may be an important feature, but for many users that is just something they do not do. I test and write about computer equipment all day long and since I use my machine as my main tool in my job, multi-tasking is an all day routine. I am running many different applications simultaneously to accomplish my tasks: emailing, editing and rendering pictures, playing music, and writing this review (all at the same time, changing between screens). Celeron and Sempron CPUs do get bogged down in the multitasking environment, but for a gaming machine that will be used for doing single tasks individually, the CPUs work better than adequate and won't disappoint you. It's time to break the myth that all decent gaming machines have to cost an arm and a leg, and when you build one yourself, you will see that its much easier to accomplish than you might have previously thought. Let's move on, and talk about buying parts and where to get started with all this gaming madness.
Contents